Whether you're a parent or a student, college is a rite of passage. Getting the Best College Dorm Safe will help you make sure it goes without a hitch.
If you're a parent… maybe it's the first time your child will be leaving your home for an extended period of time. You'll no longer be around to help your child. It'll be an emotional time where you truly realize your child has grown up. Before your child leaves though, I'm sure you want to make sure you've done everything to prepare them for a good experience.
If you're a student… maybe this is your first taste of freedom. No more curfews. No more mom telling you to eat your vegetables all the damn time. You want to have a full taste of that freedom: parties, late night hangouts, and… of course… actual learning. With all those exciting opportunities available, I'm sure you don't want to worry about the annoying parts of life.
With that said: there is no worse experience, and nothing more annoying, than getting your stuff stolen straight from your college dorm room or apartment.
It happens more often than you think.
Every year, at least 13,500 thefts happen on college campuses. Thefts are the MOST COMMON crime reported on college campuses. After all, where else do you have a highly concentrated population of people with laptops, electronics, and other necessities of a college experience (and items of great resale value to thieves)?
Fortunately, there's an easy way to be proactive and stop a thief from stealing your stuff. All you have to do is be smarter than the next guy, and get yourself (or if you're a parent, your student) a safe.
In this review, I'm going to look at what the best college safes are. If you want to yourself time and keep your valuables safe, keep reading!
Comparison Table
Products Listing
Stealth College Portable Dorm Safe Review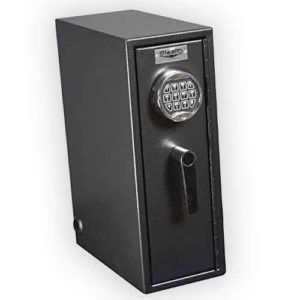 The safe is tall and skinny, a bit like a tower computer block. You can slide it under a standard dorm desk, or you can easily stash it in a closet. This safe will fit easily in any dorm room. At 40 lbs the Stealth College Portable Dorm Safe is the heaviest member of this list. That's because it has walls of strong steel. However, it is still compact (and sturdy) enough to survive multiple moves.The folks at Stealth Tactical Solutions really had the college market in mind when they designed the Stealth College Portable Dorm Safe. As the name suggests, this safe is super customized for dorm and college living.
At 18.5 inches of internal height, the Stealth College Portable Dorm Safe can fit laptops up to 18 inches. Frankly, this safe is the best laptop safe I've found, college or not. It not only fit large laptops, but it also has two access holes that you can string charging cables through. This means that you can charge your laptop (and other electronics) while it's protected inside the safe!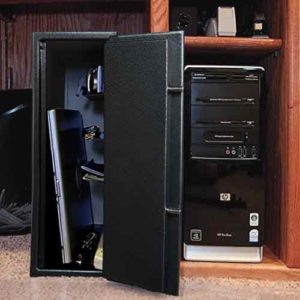 As a special bonus, the Stealth College Portable Dorm safe comes with a FREE heavy-duty security cable. You can string this cable through the access holes and wrap it against a fixed object like a bed frame or desk. This helps give additional security to the safe. It's also compliant with any college rules which prohibit mounting things within your dorm rooms.
In addition, the Stealth College Portable Dorm Safe has three rubberized shelves perfect for putting your phone, wallet, and other small items. This means that ALL your electronics, medications, and valuables can be protected in the same safe.
Finally, the Stealth College Portable Dorm Safe has a highly reliable electronic keypad lock. In fact, it uses one of the most reliable electronic locks in the safe industry; this lock is certified by Underwriter Laboratories, the top authority on security construction/ratings. With regular amounts of use, a standard 9V battery can last two or three years, meaning you don't have to replace it often.
All in all, the Stealth College Portable Dorm is a great college safe. In fact, it's one of the few reliable safes out there specially built for college use. I'll say it's a little bit more pricy than the other safes on this, but you are getting a lot of great value for the money you pay.
Stealth College Portable Dorm Safe Specifications
Inner dimensions: 18.5″ H x 6.5″ W x 12″ D
Outer dimensions: 20" H x 7" W x 14" D
Capacity: 0.83 cubic feet volume
Weight: 40 lbs
Locking Mechanism: Electronic Keypad Lock
VAULTEK VE10 Review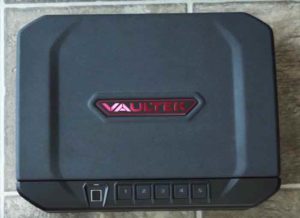 The VAULTEK VE10 is super slim and compact. Even though it has an 18-gauge carbon steel exterior, it only weighs 7.2 pounds. This makes it really, really portable. You can even carry the VAULTEK VE10 in a backpack! If you're looking for something small and inexpensive, then the VAULTEK VE10 is a great option. This is another reliable safe, purpose-built for college environments.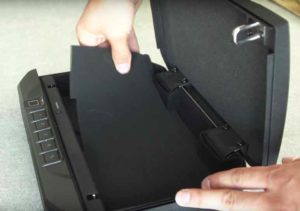 With an electronic keypad lock, the VAULTEK VE10 also offers quick accessibility for legitimate owners. The keypad lock offers over 40,000 combinations, meaning your fishy roommate or some thief of the streets will never be able to guess your code. The lock is powered by a rechargeable lithium ion battery. With constant use, the battery will last for 4 months, and you can charge it using a micro USB cable (same as your phone). It only takes 2.5 hours to get a full charge.
The VAULTEK VE10 is great for keeping phones, tablets, medical pill bottles, and important documents like your passport. However, its main drawback is that it is too small to fit laptops. This is highly unfortunate, but probably helps keep the cost of the VAULTEK VE10 below all its other competitors.
All in all: if you don't need to store a laptop in your safe and have a tighter budget, the VAULTEK VE10 gives you good bang for your buck.
VAULTEK VE10 Specifications
Inner dimensions: 9.8" x 5.25" W x 1.5" D
Outer dimensions: 10.5" H x 8.5" W x 2" D
Capacity: 0.045 cubic feet
Weight: 7.2 lbs
Locking Mechanism: Electronic keypad lock
Barska Biometric Safe Review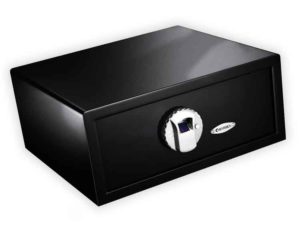 At 0.91 cubic feet, this safe has a pretty big volume as far as dorm safes go. It's 31 lbs in weight, which means it's highly durable but still light enough for you to move it by yourself. The Barska Biometric Safe is great for laptops up to 16 inches.The Barska Biometric Safe is one of the most popular safes on the market. It also happens to work really well for college dorms.
The Barska Biometric Safe uses a biometric fingerprint lock (which can store 30 prints), meaning you can open it even faster than an electronic keypad lock. This lock is powered by 4 replaceable AA batteries, which you only need to change once every 2 years or so.
The Barska Biometric Safe might not have the branding "dorm safe", but it will work excellently for the door environment. It isn't very expensive, and it provides great protection and ample storage space for laptops and beyond. Plus, Barska is a well-known brand name in the safe marketplace.
Barska Biometric Safe Specifications
Inner dimensions: 7" H x 16" W x 14" D
Outer dimensions: 7.75" H x 16.5" W x 14.5" D
Capacity: 0.91 cubic feet
Weight: 31 lbs
Locking Mechanism: Biometric fingerprint lock
Viking VS-35BLX Review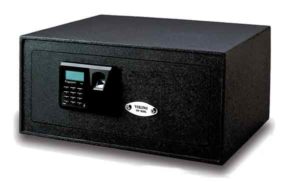 At 1.03 cubic feet, the Viking VS-35BLX is the largest safe that I've reviewed. It weighs 31 pounds, and will fit anything up to a 16 inch laptop. The Viking VS-35BLX is a strong competitor to the Barska Biometric Safe. It's also a safe that isn't directly marketed at college use, but works very well for it!
What's very distinctive about the VS-35BLX is its locking mechanism. It actually offers three different locking mechanisms. By default, there's a biometric fingerprint lock (which can store 32 prints). However, if that fails, then you can also use a backup electronic keypad lock. If that ALSO fails, then Viking provides 2 backup keys (keep these far away from prying roommates though). If you're a really forgetful person and need a lot of backups, the the Viking VS-35BLX might be a good buy.
All in all, the VS-35BLX is another quality safe with good construction and a sizeable volume that'll meet your college needs!
Viking VS-35BLX FTK PB-1 Specifications
Inner dimensions: 7.75" H x 16.75" W x 13.75" D
Outer dimensions: 8" H x 17" W x 14" D
Capacity: 1.03 cubic feet, will fit up to a 16 inch laptop
Weight: 31 lbs
Locking Mechanism: Biometric fingerprint lock with backup electronic keypad and 2 backup keys
Parents: investing in a safe = peace of mindYour child might be living away from you in college, but that doesn't mean you can't keep them safe.Buying a safe for your student is one of the best investments you can make. It's the best way you can have some peace of mind, while still giving your child the independence they desire. You can get the best of both worlds.This is especially true if you are helping to pay for your child's education. Maybe you've bought them a new laptop, and are afraid it might get stolen. If you give your child a safe along with that laptop, then you're setting an expectation that they should be responsible for their possessions. Giving your child a safe teaches good life skills, and will also protect the money you invested in your child's education!
Students: a good safe lets you focus on the good parts of collegeYou might've heard that college is the best time of your life. Well, that can definitely be true if you do things correctly!There's a lot to keep you busy during college. I've heard people joke that in college, you can only choose two out of the following three things: sleep, social life, or studies.Fortunately, there's another thing that starts with a "s" that you can get pretty easily, with no sacrifice: safety.Honestly, let's forget about all those boring pamphlets that you college is probably going to pass out during orientation. They'll probably have a bunch of statistics that take too long to read.Here's the only fact you need to know: if you're safe, you can enjoy college more.Just think about how shitty life would be if your laptop or phone got stolen.Want to finish that paper on time? Too bad, now you have to wait in line for one of those old computers in the library, which closes at 7pm.That cute girl from Anatomy wants to come over to watch Netflix (and chill, if you're lucky)? Yeah, good luck watching Netflix without a laptop. Well yeah, sure, you could ask her to bring yours… but you'll kinda look like a chump.Buying a dorm safe is probably the EASIEST thing you can do to prevent all that from happening!
My Cousin's Story: A cautionary taleThis true story shows happens when you don't have a safe.I have a baby cousin in California who attended the University of California, Berkeley. Even without all the violent protests, the area around the Berkeley campus isn't exactly safe.My cousin said that muggings happen so often that students jokes about them. It's so bad they have to use humor to cope. Also, most of his friends who live off-campus have had their apartments broken into. If you really want to be scared, look at the UC Berkeley police department's crime map. It's not a pretty picture. And this is supposed to be the best public university in the country!Anyways, something HORRIBLE happened to my baby cousin in his freshman year. He was living in a campus dorm, which is supposed to be more secure. Yeah, right. "More secure".One day, my cousin came back from the dining hall to find his room's door open…. and his laptop GONE.You see, my cousin was a pretty responsible guy, but his roommate wasn't. That roommate would leave his underwear on the floor, let mold grow on old dishes, and… he'd forget to LOCK the door all the time!As it turns out, someone who lived in the dorm knew the door would be open, and swiped my cousin's laptop. I say "someone", because the UC Police never found out who. In fact, most crimes like this are never solved.If my cousin had put his laptop in a safe, then this WOULDN'T have happened. Even if the door was open, the thief wouldn't have been able to break open the safe and get that laptop.That's the difference a safe can make! (Note: I felt sorry for my cousin and bought him a safe after this happened. He hasn't lost any laptops since!)
Most important things for finding the best college safe
Budget-friendly
Let's face it, college is expensive. There's a good reason people joke about college students eating ramen noodles… because it's often true. Student loans? Let's not even talk about those. I'm sure you're worrying enough about them.
You might think "I'd love a safe, but I can't afford one."
I'm happy to tell you that's wrong. There are safes out there that even college students can afford.
In fact, I'm going to recommend you safes that will be cheaper than many college textbooks.
Compared with a textbook, which you're only going to use for one class and never again, a safe is a great long-term investment. A safe can stay with you even beyond college. Plus, a safe protects you from losing valuable things that you might keep using after college.
Compact Size
College dorm rooms and apartments aren't known for being particularly big. The amount of space you can put a safe in might be even smaller, since you might have roommates.
Fortunately, there's plenty of safes out there that are big enough to store things like laptops, but compact enough to fit within your dorm room. I'm going to recommend some of them below.
Note: You'll want to see how much room you have in your dorm, and make an informed decision based off that. I've reviewed safes ranging from 0.04 cubic ft to 1.03 cubic feet in volume, so you'll have a range of choices!
Portable
Another fact about college life: you might not be living in the same room every year. Many people I know had a different dorm or apartment every single year.
This means that your safe needs to be portable. Portable is usually determined by a safe's size, weight, and construction. Related to the note of compact size: I will purposefully recommend safes that are small, light, and sturdy enough to survive multiple moves.
Good Lock
Last but not least, the best dorm safes will have a good locking mechanism. Also, you may want to consider the type of locking mechanism that's best for your needs.
Here's my two cents. You definitely don't want a key lock, because a bad roommate could easily steal that key.
Biometric (fingerprint) locks are great for a dorm environment. Nobody else will have your fingerprint. Plus, biometric locks are very quick to open, meaning if you're late for class and need to quickly grab your laptop, you'll have no problems.
Electronic keypad locks are also great. They're less complicated than combination locks, so they'll also be pretty quick to open… as long as you have the right code!
Q: What can I put in a dorm safe?
Laptop: Thieves know that every college student has a laptop. This makes laptops one of the most commonly stolen items on college campuses! When you're away from your dorm, putting your laptop in a safe will help keep it away from those thieves!
Phone, Tablet, and other electronics: Besides laptops, you'll probably have other electronics. Have a Kindle? An iPad? Those are all very frequently stolen items too.
Money: Maybe there's spending money from family. Maybe you have cash, earned from your part-time job. Don't let any of that hard-earned money get stolen!
Medications: Have prescription medication that you don't want other people to steal? (This is really common, especially for medications like Adderall) A safe will help you keep medications to yourself. It'll also save you from getting in trouble if school officials catch your meds in someone else's hands, even if they stole them!