Are you thinking about storing your guns in a Cannon Safe?
Well, you're in the right place. On this page, I'll help you find the best Cannon Safe for the money.
There's no need for you to look high and low for information about Cannon gun safes, because I've compiled all the info you need here. I want to make your life easy, so that you can start protecting your guns ASAP!
Fair warning: Cannon Safes' online selection, particularly on Amazon, is rather limited. Therefore I'm not able to review as many safes as usual. Also, I got the opinions of real human beings that I know through various firearms communities. Those opinions are rather mixed.
There are some good Cannon safes that folks have reported. But there are also many others that I wouldn't feel comfortable recommending. If you want a wider selection, you might want to look at my list of the BEST GUN SAFES.
Anyways, if you're here to research Cannon Safes, keep reading and check out my list!
Comparison Table
Unfortunately Cannon safes has been discontinued, you can find more safes at:
Product Listing
Cannon Safe All Rifle 5936 Gun Safe Review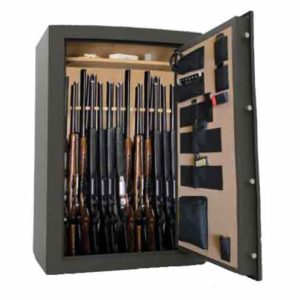 This is one of the larger safes the Cannon has, with an advertised capacity of 42 guns. Don't have it myself, but got a blurb from a fellow firearms enthusiast who does.
Had a buddy who owned this model of safe and it worked for him, so I got one too. My Cannon All Rifle took a little while (I think around 2-3 weeks) to ship, guess there were a lot of people ordering around that time.

It came with a rack and some door pouches, but with scopes I am putting around half the advertised capacity inside, which my friend told me to expect. The interior lining was nice and came with the safe too. I was thinking I'd have to buy my own fabric to line it with.

The body construction is quite strong, though I will say the door feels a bit jiggly when I swing it open, maybe the hinges aren't as great. Seems like it'll work OK for fires but didn't try that out, duh.
— Norman from Malheur County, Oregon
Cannon Safe All Rifle 5936 Gun Safe Specifications
Inner Dimensions: 56.75″ H x 34.4″ W x 14.25″ D
Capacity: Up to 42 guns
Outer Dimensions: 59" H x 36" W x 20" D
Construction: 14-gauge steel
Weight: 450 lbs
Locking mechanism: Electronic keypad lock, four 4" locking bolts and internal hinges
Fire resistance: 45 minute fire rating at 1200 degrees temp
Cannon Capitol Series 24-gun Safe Review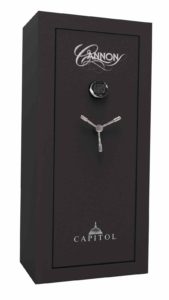 As I said, Cannon makes some safes with patriotic-sounding names. The Capitol series is one of them… I assume it's named after the Capitol in DC. This safe (Model CP592618-30-H1TEC-17) is advertised as having a 24 gun capacity.
Curtis from Snyder, OK says:
What can I say… it's a pretty regular long gun safe that gets the job done. The steel exterior is really strong, seems like they put several plates together and reinforced everything. The safe has internal hinges, which makes me feel a bit safer since nobody can try cutting the door hinges off. There's also a door seal that'll expand and close things off during a fire so the temperature and everything inside don't get too hot.
Cannon Capitol Series 24-gun Safe Specifications
Inner Dimensions: 57.4 " H x 24.1 " W x 12.7″ D
Capacity: Up to 24 guns
Outer Dimensions: 59" H x 26" W x 18" D
Construction: 14-gauge steel
Weight: 338 lbs
Locking mechanism: Electronic lock, Six 4" locking bolts and internal hinges
Fire resistance: 30 minute fire rating at 1200 degrees
Cannon Foxtrot 24 Gun Safe Review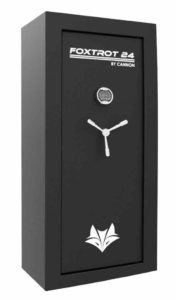 The Cannon Foxtrot 24 (Model 5524-30-H1TEC-17) is another safe with an advertised 24-gun capacity. It's different from the 24-gun Capitol Series because it's a bit more customizable.
As Wayne from Westerville, OH wrote:
I saw this was a 24 gun safe, but I only have 4 rifles. I want to grow my collection but for now I have extra space. So I got the Cannon Foxtrot 24 because it came with a center divider and configurable shelves. Used those to divide safe in half and have one half for rifles, and have the other half for ammo and then some other valuables not related to my guns. The shelfs are a bit wobbly but they get the job done. Didn't try to put anything too heavy on them. For the 24 gun capacity the price seemed reasonable and I'll reconfigure once I get more guns and keep using the safe.
Cannon Foxtrot 24 Specifications
Inner Dimensions: 58.5 H x 23.5 in. W x 17.5 in. D
Capacity: Up to 24 guns
Outer Dimensions: 59" H x 24" W x 18" D
Construction: 14 gauge steel
Weight: 290 lbs
Locking mechanism: Electronic lock with 3 4" locking bolts and internal hinges
Fire resistance: 30 minute fire rating at 1200 deg F.
Compare to other brands
Nothing on there looks good to you? You might want to check out my reviews for other brands or types of safes, where there will be many more options of good quality:
About Cannon Safes
Cannon Safes is an American safe brand with over 50 years of history. They were founded in 1965 and are based in Las Vegas, Nevada. Cannon is most known for making larger sized gun safes. Many of those safes are fireproof. They're also well known for giving their safe brands patriotic names like "Capitol", "Valley Forge", and "American Eagle".
Unfortunately, Cannon Safes' selection on Amazon is rather limited for some reason.
Tip: get a safe that's bigger than you think you need
As with any gun safe, the marketed capacities on Cannon safes represent the recommended maximum amount they can hold.
The actual number of firearms you can put in your Cannon safe is going to depend on what specific guns you own. Some of your guns might have scopes. Or you might've modded them. I'm sure you already know that every gun is different. That's why you'll want to have a bit of wiggle room.
A good rule of thumb is this: buy a bigger safe than you think you need.
For example: If you have 20 guns, it's probably better to buy the "22 gun safe" than the "20 gun safe".
It might seem weird, but it'll save you money and pain in the long run. You don't want to get a safe only to find it too small, because then you might have to waste time/money either returning the safe or getting a second one.
Plus, you might get more guns in the future! Having a bigger safe will just help you be prepared for that.
FAQs about Cannon safes
How are Cannon safes delivered?
For big safes, Cannon does things the same as other brands. Once you make an order, a delivery agent representative will call you to schedule a delivery appointment.
Similar to other safe companies, Cannon will normally only deliver to your curbside. That means the truck driver will NOT help you move the safe you order inside your garage or house. You'll need to have friends, family, or professional movers on standby if your safe is big enough to warrant that.
I would recommend that you at least have a heavy duty hydraulic jack or dolly standing by for this purpose. That'll make life a lot easier and save you heavy lifting.
What's the warranty on Cannon safes?
Cannon safes come with a pretty generous lifetime warranty. In the event of burglary, natural flood, or fire, Cannon will replace your safe for no cost at all. They will also provide lifetime parts replacement, though their coverage for labor costs is only for one year after purchase.
Of course, you will need to register your safe in order to be eligible for the lifetime warranty. You can do so here.
Where are Cannon safes made?
Honestly, it depends on the model. Cannon makes safes in the US, Mexico, and China.
From my research, the models that are made in the US are the Commander, Cannon, Armory, and Scout series. Other series will be made in Mexico and China unless otherwise specified.
How is customer service for Cannon safes?
Cannon Safes has an A+ rating from the Better Business Bureau of Southern Nevada. I haven't heard too much directly about their customer service, however.
Here's Cannon's contact info:
Cannon Safes customer service phone line: 800-242-1055
Cannon Safes customer service email: contactus@cannonsafe.com
Hours of Operation: Monday through Friday 5 a.m. to 7 p.m. Pacific Time and Saturday & Sunday 8 a.m. to 12 p.m. Pacific Time, excluding major holidays.