Are you looking to store your gun or other valuables in a Liberty Safe? Well, this is the page for you. Here, I'll help you find the best Liberty safe for the money.
There's no need for you to look high and low for information on Liberty gun safes, because I've compiled all the info you need here. I want to make your life easy, so that you can start protecting your guns ASAP!
Below, I've analyzed a bunch of Liberty safes. This is based on extensive research, as well as getting the opinions of folks that I know in various firearms communities. A real human being has tried many of the safes below and told me how their experience was.
Check out the list and see which Liberty safe works best for you!
Comparison Table
Best Liberty safes for handguns: HDX Series (biometric lock)
The HDX series is part of Liberty's "Home Defender" suite. HD = Home Defender, X is an indication that the safes in this series have biometric locks. The HDX series is intended for handguns.
Let's take a look at the members of the Liberty HDX series that I've heard good things about…
Liberty HDX-150 Micro Review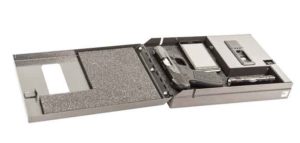 The Liberty HDX-150 is a great small safe for handguns. It's easy to use, even for family members who aren't experienced with firearms.
I got the HDX-150 for my fiance's birthday. She wanted somewhere to put her pistol that felt secure. Since my old Liberty Revolution's done me good, I thought I might as well go with Liberty again. American made, as I said.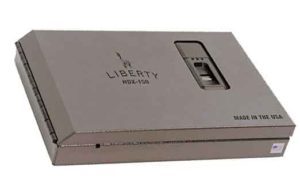 Fiance was really happy with the result. There's a little red LED light on it that she can use to look for it in the dark. Lots of nighttime robberies around here, so she really loved that. I also decided to splurge and get an AC adapter (you need to get it separately) on top of the 9V battery. With that my fiance opens the safe in a second flat.
— Levi from Pasadena, TX
Liberty HDX-150 Micro Specifications
Inner Dimensions: 1.5″ H x 10.75″ W x 8″ D
Capacity: 0.075 cubic ft
Outer Dimensions: 2.25″ H x 12.5″ W x 8.75″ D
Construction: 14 gauge steel
Weight: 10.4 lbs
Locking mechanism: Biometric fingerprint lock, stores up to 15 prints, key backup
Other: Has included security cable
Liberty 9G HDX-250 Review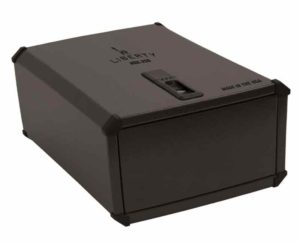 The Liberty 9G HDX-250 is a larger sibling to the HDX-150. While the HDX-150 has a latched, top-opening lid, the HDX-250 opens on the side, a bit like a small garage door.
Harrison from Franklin, KY told me over Facebook…
I have two pistols in my HDX-250, plus a little bit of extra ammo. It's light enough and not too big, so I put it at my bedside. I registered a couple fingerprints in the lock for good measure. Yes, I plugged in the AC adapter so it can open faster. With a 9V it's already pretty fast to open though, I don't think I can tell the difference.
Liberty 9G HDX-250 Specifications
Inner Dimensions: 3.75″ H x 9.75″ W x 11″ D
Capacity: 0.23 cubic ft
Outer Dimensions: 7″ H x 11.5″ W x 12.5″ D
Construction: 14 gauge steel
Weight: 17.7 lbs
Locking mechanism: Biometric fingerprint lock, stores up to 15 prints, key backup
Best liberty safes for handguns: HD Series (electronic lock)
The HD Series are a product line of Liberty Safes that offer quick access through the use of electronic locks. They are also great for handguns!
Liberty HD-100 Review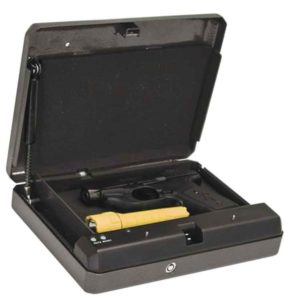 The Liberty HD-100 is a relatively compact, lightweight member of the HD series. It's useful for putting not only in your home, but also your car should you need to transport your hangun.
Here's a testimonial from a member of the 1911 Owners Facebook Group I'm a part of.
My HD-100 is pretty light, but sturdy. I can fit my 1911 in there perfectly fine, plus a mag for good measure. This is small enough to put in a car… I've put it under the front seat of my truck and it fits pretty snug. No one can see it from the outside. Supposedly this model might have some issues latching, but nothing's gone wrong for me.
— Patrick in Covington, LA
Liberty HD-100 Specifications
Inner Dimensions: 1.3″ H x 9.25″ W x 6″ D
Capacity: 0.042 cubic ft
Outer Dimensions: 2.5″ H x 10.8″ W x 8.3″ D
Construction: 16 gauge steel
Weight: 6.4 lbs
Locking mechanism: Electronic keypad lock
Liberty HD-200 Review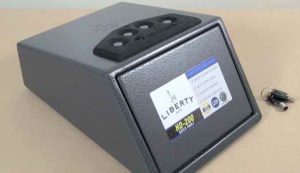 Seems like these Liberty safes are really popular with 1911 owners. Another guy in that 1911 Facebook group had the Liberty HD-200, which is a larger sibling to the HD-100.
I was looking for something that the California Dept of Justice certified since I'm in Southern California. Just became a dad not too long ago so needed to find something to keep the little one away from the 1911. HD-200 came really quickly with Amazon Prime. Good price too. It came with a 9V battery, been using that as the power supply for the lock. Opens really quickly, but isn't something you can just play around with and open. I feel safe with both my child and 1911 in the house now.
— Phil in Barstow, CA
Liberty HD-200 Specifications
Inner Dimensions: 3″ H x 8.5″ W x 7″ D
Capacity: 0.10 cubic ft
Outer Dimensions: 5.4″ H x 8.5″ W x 12.4″ D
Construction: 16 gauge steel
Weight: 9.5 lbs
Locking mechanism: Electronic keypad lock
Best Liberty safes for long guns
Liberty Revolution 18 Gun Safe Review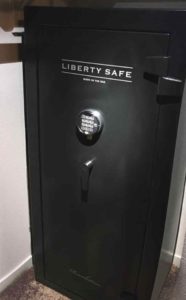 OK, now for the thoughts of a guy in a hunting forum I check out every so often. He brought up the Revolution in a thread about good long gun safes.
I'll suggest the Liberty Revolution 18 gun safe. Don't have any complaints about mine. Fair disclaimer though: it doesn't fit the whole 18 guns, it's more like 12 for me. But that's the case with all the manufacturers, the number they use for marketing is always bigger.

But I'm going to recommend this because it's made in the USA. The other brands I looked at were imports. The craftsmanship does feel American.

My Liberty 18 gun safe is rock solid. Of course didn't get to test the fire rating, but I haven't found too many gun safes that were fire resistant to start with so this is an extra bonus. If it's important to anyone, I managed to get mine moved up a flight of stairs and it's on the second floor. Didn't get scratched in the process.
— Levi from Pasadena, TX
Liberty Revolution 18 Gun Safe Specifications
Inner Dimensions: 56″ H x 22.25″ W x 13.5″ D
Capacity: 9.73 cubic ft, up to 18 guns
Outer Dimensions: 59.5″ H x 24.25″ W x 22″ D
Construction: 12-gauge steel Weight 340 lbs
Locking mechanism: Electronic keypad lock.
Fire resistance: Rated for 30 mins at 1200 deg F
Liberty Fat Boy Jr 48 Gun Safe Review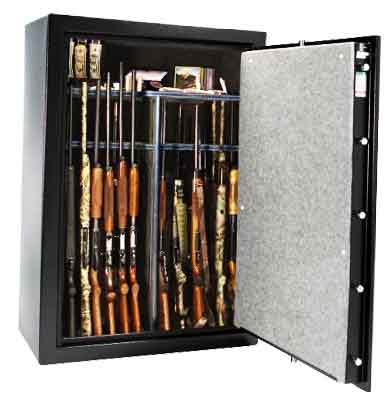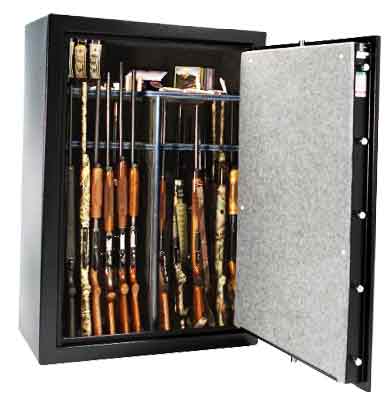 Another guy in the hunting forum had a Fat Boy Jr and recommended it when we were talking about good Liberty safes to put a lot of hunting rifles (and other long guns) into.
I put my guns in a Liberty Fat Boy Jr 48. Fireproof, almost as big as a refrigerator. Got it online, shipped on top of a pallet. First thing: the unit was constructed at a high quality. American made, not surprising.

It has 48 gun slots inside of it, but obviously your mileage is going to vary depending on what your guns are shaped like. Many of my guns have stock designs that take up more room, and I also have scopes. Those things take up more room, so I don't have 48. Also, the door's cloth padding started peeling after a couple months, maybe because my guns were butting up against them.

Still decently satisfied with this safe though. All the other safes I've looked at in this size range were either Made in China or had way lower construction quality. I feel good about BUYING AMERICAN while also protecting myself.
— Bailey from Coeur d'Alene, Idaho.
Liberty Fat Boy Jr 48 Gun Safe Specifications
Inner dimensions: 56.5″ H x 38″ W x 14.5″ D
Capacity: 18.01 cubic ft, up to 48 guns
Outer dimensions: 60.5" H x 42" W x 25" D
Construction: 11-gauge steel Weight 792 lbs
Locking mechanism: Electronic keypad lock
Fire resistance: Rated for 60 mins at 1200 deg F
About Liberty Safes
As you might be able to guess from the name, Liberty is an All-American safe company. They're based in Payson, Utah, which is a bit south from Salt Lake City. They were founded in 1988 by Jay Crosby, an engineer who used to work at the Fort Knox Safe Company.
Liberty is well known for its gun safes. They make smaller gun safes that fit handguns, as well as large gun safes for long guns. They also make some home safes that you can put other valuables in.
Best of all, Liberty makes ALL their safes in the USA. Their 200,000 square foot factory in Utah employs more than 450 American workers. This means that if you buy their products, you will support American manufacturing. What's more is that they also have two East Coast distribution centers. One is in Atlanta, and the other is in Harrisburg. That's even more American employment. Besides, as we all know, Made in America is usually a mark of quality and craftsmanship.
FAQs about Liberty Safes
How are Liberty safes delivered?
The specifics will depend on which vendor you purchase your safe at.
Most of the time when you buy a Liberty Safe from Amazon, it'll come with UPS ground. For bigger safes it'll probably come on a tractor trailer and the seller will contact you via email and arrange the shipping specifics. Usually the big safes get shipped on top of a pallet as to avoid damage.
Smaller safes will also go by UPS ground, but might not be on a wooden pallet. They're usually cushioned with a lot of styrofoam.
What's the warranty on Liberty safes?
Liberty has a pretty generous Lifetime Warranty. If your safe ever goes through a fire or attempted break in, they will either repair or replace your safe.
For repairs, the warranty covers expenses for both parts and labor.
In relevant cases (e.x. A fire), labor includes in-home service to open your safe's door and remove the contents so you can put them in a new safe. Liberty will dispose that old safe for free.
Liberty's warranty then also covers delivery and installation of a replacement safe. If you want, you can upgrade to a better model, though that may cost a bit more.
Finally, what's interesting about Liberty's warranty policy is that it's TRANSFERABLE. If you resell your safe, the new owner can get covered under the warranty. If you buy a USED Liberty safe, make sure to ask for the warranty information!
NOTE: In order to be eligible for a warranty, you have to REGISTER your product. You can either do this online at the Liberty Safe website, or mail in a warranty registration form. The form should come along with the manual, which is included when the safe is shipped to you.
Where are Liberty safes made?
Liberty safes are AMERICAN MADE!!!
Liberty has a huge factory in Payson, Utah where they consolidated all their operations. The 450 hard-working Americans at the factory make over 300 safes per day. Hurrah for American manufacturing!
How is customer service for Liberty safes?
Liberty Safes is known for having pretty friendly and helpful customer service.
One big plus is that their customer service representatives are all based in the USA. You're not going to get some call center in India. Plus that means you're supporting MORE AMERICAN JOBS.
Liberty safe's customer service line is: 800-827-7534. They take calls from M-F 8am -5pm Mountain Time. You can also email them at: info@libertysafe.com.
Expert advice: get a safe that's bigger than you think you need
Like with any gun safe, the advertised capacity of Liberty safes represent the maximum amount they might be able to hold.
You might need to worry about this so much for handgun safes, but you definitely should think about this for long guns.
Ultimately, the actual number of firearms you can put in your Liberty safe is going to depend on what you own. Do you have a scope on your gun? A large stock? Every gun is different.
Therefore, it's wise to follow this rule of thumb: buy a bigger safe than you think you need.
As an example:: If you have 8 guns, it's probably better to buy the "10 gun safe" than the "8 gun safe".
It might seem weird, but it'll save you money and pain in the long term. You don't want to get a safe only to find it's too small, because then you might have to waste time/money either returning the safe or getting a second one. Besides, I'm sure you'll probably get more guns in the future. Might as well have extra space for them!