So you're a responsible guy who wants to protect his home and valuables. In order to do that, you've got to get the best home safe possible. Fortunately, getting that best safe for your home will be easy — if you read this review of the Best Home Safes.
I've thought about all the factors that might be important to you, done all the research, and compiled these reviews for your easy consumption. No more hassle. There's only one more step before your home is protected: making the purchase.
Comparison Table
Product Listing
SentrySafe Fire and Water Safe Review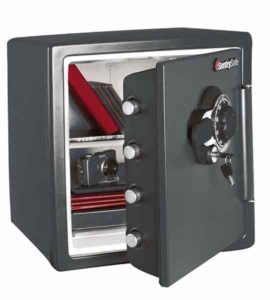 The SentrySafe Fire and Water Safe offers an excellent balance of features for a reasonable price (often <$200). This is one of the few home safes that provides both fireproofing and waterproofing. Not only that: the SentrySafe Fire and Water Safe has a Underwriter Laboratories certified fire rating, which makes it far more reputable than other brands.
There's more. The SentrySafe Fire and Water Safe is also rated for helping your digital media survive a fire. This is a characteristic that very few safes at this price point have. Digital media is even more sensitive than paper, so this is pretty special. At the same time, the fire rating is only for one hour. That should be sufficient for the average house fire of 30 minutes, but it is lower than some other competitors.
You might also observe how the SentrySafe Fire and Water Safe has two slightly different model numbers. That's because it has two lock variants. The SentrySafe Fire and Water Safe SFW123DSB has a combination lock, and the SentrySafe Fire and Water Safe SFW123FUL has an electronic keypad lock. With the SentrySafe Fire and Water Safe, you have the power to choose (both are on the same Amazon listing).
For this price point, the SentrySafe Fire and Water Safe has a high quality of construction. Besides steel walls, it has pry-resistant hinges. Its 1.23 cubic ft interior is big enough for a big stack of folders and binders.
SentrySafe is a very established brand in the safe business. They've been family-owned for 80 years and make all their products (including this one) in the USA. SentrySafe even backs up their reputation by providing an After Fire Replacement Guarantee. If, God forbid, your safe undergoes a real fire, SentrySafe will replace your safe FREE to help get you back on your feet.
Overall, I'm very comfortable recommending the SentrySafe Fire and Water Safe SFW123DSB and SFW123FUL to you. It has a great range of features (both fire and water protection), two options for locks, and the backing of a good brand name.
SentrySafe Fire and Water Safe Specifications
Inner Dimensions: 13.8" H x 12.6 " W x 11.9" D
Capacity: 1.23 cubic feet
Outer Dimensions: 17.8" H x 16.3" W x 19.3" D
Weight: 90 lbs
Locking Mechanism: Combination lock (DSB) or Electronic lock (FUL)
Fire resistance: UL Certified Fire Rating for 1 hour at 1700ºF
Water resistance: Rated for 24 hour survival in up to 8 inches of water.
Honeywell 1108W Fire Chest Review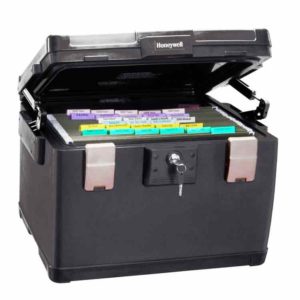 The Honeywell 1108W is also a master of balance. The 1108W is both fireproof and waterproof. Just like the SentrySafe Fire and Water Safe, it has a reputable Underwriter Laboratories fire rating for 1 hour at 1700°F. Compared with the SentrySafe Fire and Water Safe, it is somewhat more waterproof. It can survive for 24 hours in water that's up to 39 inches deep.
Interestingly, the Honeywell 1108W is advertised as a "fire chest". This is probably because it has a top-opening lid, and has a key lock. While a key lock is easy to open, you also need to not lose the key for it to work. Additionally, I want to call out that the Honeywell 1180W is imported. Granted, I know quite a few guys who've used the Honeywell 1108W at home and love it (they find you can store it really well in a garage or closet), so the product is still good.
For all these factors, I would consider the Honeywell 1108W to be a great selection if you're on a budget. Although it's slightly smaller and has a key lock, the Honeywell 1108W provides both fire and water protection at a level comparable to, and even exceeding for water, its competition in the SentrySafe Fire and Water Safe. Because of its imported status, it is going to be less expensive, but don't worry: I have friends who can attest that there is no big loss in quality.
Honeywell 1108W Fire Chest Specifications
Inner Dimensions: 10-1/5″ H x 15" W x 12" D
Capacity: 1.06 cubic feet
Outer Dimensions: 16-1/3″ H x 20-1/3″ W x 17-1/2″ D
Weight: 84 lbs
Locking Mechanism: Key lock
Fire resistance: UL Fire Rating for 1 hour at 1700°F
Water resistance: Waterproof for 24 hours at up to 39 inches in depth.
Steelwater AMSWD-530 Review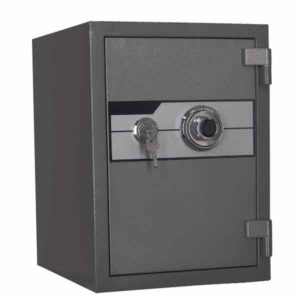 If your idea of the best home safe is something that's VERY fireproof, then the Steelwater AMSWD-530 is a good bet for you. This safe has a fire rating for 2 hours at 1850°F, which is well above the average length and heat of a house fire.
The reason you might want something "above average" is that, even after the house fire ends, it will take extra time for your safe to cool down. Therefore, if you have a lot of sensitive documents, this safe is a good choice. Do note that the AMSWD-530 is not waterproof though.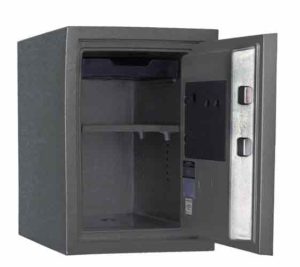 The Steelwater AMSWD-530 also offers strong protection against thieves who want to assault either the locking mechanism or walls. With two solid layers of steel, the AMSWD-530's walls can withstand most brute force attacks. Its combination lock is also a blessing. It's backed up by two active rectangular locking bolts and the latest in anti-pry designs, meaning thieves cannot force the door open and cannot trip up the lock.
What's unique about Steelwater is their approach to shipping. While most of the good brandnames like SentrySafe or AMSEC will usually do a good job shipping your safe undamaged, Steelwater takes things to the next level. Oftentimes, when you buy from amazon, a company representative will contact you to arrange shipping logistics, as they ship only use ground freight.
Steelwater AMSWD-530 Specifications
Inner Dimensions: 11-11/16″ H x 14″ W x 12-7/8″ D
Capacity: 1.44 cubic feet
Outer Dimensions: 17-3/4″ H x 20-1/8 H x 20-1/2″ D
Weight: 143 lbs (dual layers of steel)
Locking: Mechanism Combination lock, with backup key lock
Fire resistance: Fire Rating for 2 Hours at 1850°F
Steelwater AMSWFB-450 Review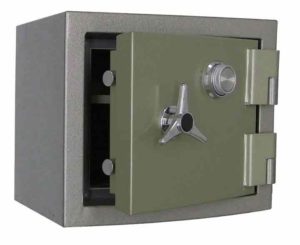 Steelwater's AMSWFB-450 is like a AMSWD-530 with more muscle but less stomach. The Steelwater AMSWFB-450 weighs 92 pounds more than its "-530" cousin. However, its capacity is also slightly smaller, at 1.22 cubic feet.
The difference between Steelwater AMSWFB-450 v. AMSWD-530's weights is due to the material of the AMSWFB-450. The Steelwater AMSWFB-450 is still two layers of steel, but its construction is even more strong and more dense than the 530's. Because of this, even though the two safes have roughly the same exterior dimensions, the AMSWFB-450 has a somewhat smaller interior volume.
The Steelwater AMSWFB-450 has the same high level of fire resistance for 2 hours at 1850°F, and also uses combination locks. However, if you are really worried about thieves heavily attacking our safe, the AMSWD-450 is the way to go.
Steelwater AMSWFB-450 Specifications
Inner Dimensions: 11-11/16″ H x 14″ W x 12-7/8″ D
Capacity: 1.22 cubic feet
Outer Dimensions: 17-3/4″ H x 20-1/8 H x 20-1/2″ D
Weight: 235 lbs (dual layers of steel)
Locking Mechanism: Combination lock
Fire resistance: Fire Rating for 2 Hours at 1850°F
Most important factors for finding the Best Home Safe
1. Size
It might be obvious, but it's important! For safes, size matters.
If you are planning to store a huge amount of stuff, then you need to get a bigger safe. If you only have one corner of your house to put a safe, then you want to make sure that safe actually fits.
Size classifications usually depend on manufacturer, but most "regular" sized safes are somewhere around 1.0-2.0 cubic feet in volume. To help you visualize: 1.0 cubic feet is the size of a regular microwave in your kitchen.
Anything below that is usually a "small" safe (usually the size of a two-slice bread toaster), and anything above that is a "extra large" safe (size of a mini-fridge and upwards).
For easy readings, here's a table of safe sizings:
| | | |
| --- | --- | --- |
| Safe Size | Volume | Kitchen appliance equivalent |
| Small | ~0.5 cubic feet | 1 bread toaster |
| Regular (This is what we're focusing on!) | 1.0-2.0 cubic feet | 1-2 microwaves |
| Extra Large | Anywhere above 2.0 cubic feet | At least a minifridge |
On this page, we'll focus on regular safes between 1.0-2.0 cubic feet. If you're interested in finding the best small safe or best extra large safes, check out our separate pages for that (small, extra large)!
2. Locking Mechanism
Want to stop a thief? A good lock will go a long way. There are different types of locks available for home safes: electronic, mechanical, key, and biometric (more info here).
Unlike gun safes, where you might need quick access to defend yourself, quick access isn't as important for home safes. I would imagine getting your cash a few seconds late won't be a matter of life and death!
My recommendation for home safes is that you invest in a hardy locking mechanism, not a "quick to open" one. A hardy lock will do several things. It'll be hard to force open. It'll be hard to bypass. It'll also be hard to guess what the combination is, in case the thief wants to brute force it.
The bottom line: for a good home safe, get a good locking mechanism.
3. Fire resistance
Ah yes, fire. On average, house fires burn at least 1,100 degrees fahrenheit. Think of a hot, 100 degree day. Now multiply that by ten. That's the horrible, destructive heat of a fire.
At 451 degrees fahrenheit, paper burns. Let's say you have a bunch of family photos sitting around. When a home fire strikes, they will be gone in MINUTES. 451 degrees is less than HALF the AVERAGE heat of a home fire.
A home fire doesn't even need to be at full intensity for your most precious documents and memories to literally go up in smoke
I know you're responsible, and you sure as heck don't want that to happen. Therefore, I'm going to recommend some safes that are fire resistant and won't let your valuables turn to ash.
Why should I get a home safe?
There are many reasons why you might need a home safe. However, based on my experience and the experiences of my loved ones, all those reasons boil down to two things: theft and natural disaster.
1. Theft
Your home is a fortress! As I talk about in"Why should I buy a safe?", someone gets robbed in America every 18 seconds. Billions of dollars get lost every year to home invasions. Paying a reasonable price upfront for a home safe is a small cost compared to a potentially huge unreasonable loss!
2, Natural Disaster – Floods, Fires
This does depend a bit on where you live. However, DO NOT let that give you a FALSE sense of security. Even if you don't live in a floodplain, or near a forest that catches fire every few years, floods and fire could strike at any moment.
A flash flood could happen out of the blue. The water pipe in your basement might burst.
You might be careful with the kitchen stove, but your neighbor might not. Heck, one time I had a neighbor who threw his cigarette into a pile of chicken droppings (guy didn't like to clean). That sparked a three-alarm fire, which thank God didn't spread to my home. You want to be prepared for accidents like that!
A note about waterproofing
One important note though. There is often a tradeoff between water resistance and fire resistance. To have maximum fire resistance, a safe must be able to "breathe", meaning it can't be completely sealed off. It's like how, on a hot day, your car will be hotter if you close all your windows than if you open them (assuming you don't use A/C). Therefore, the most highly fire resistant safes will likely not be waterproof!
This is where I'll trust you to make your own decision. Though floods might be common, you can avoid water damage by putting a safe on the second floor of your house, or by mounting it on a table or other block. It all just depends on if those options are available for you. On the other hand, fires don't distinguish between second and first floors.
FAQs about home safes
Q: What can I put in my home safe?
Pretty much anything except guns (use a dedicated gun safe for those!) is fair game when it comes to home safe.
However — and this is again based on the experiences of me and those close to me — there tend to be some important things that come top of mind for home safes.
Family Photos, Memorabilia
Jewelry: rings, brooches, necklaces
Important Documents: birth certificates, insurance documents, stock certificates
Precious metals: gold, silver
Cash: 'nuff said.
Digital Media: Portable hard drive, CD/DVDs, memory cards.
For this review article, I've taken a very generalized approach. I've assumed that you could be putting any one (or a combo) of the things I listed above.
However, I do want to note that a) some of those items I listed have special requirements and b) if you have a lot of one item, you may want to get a more specialized safe.
If that is you… you might want to check out these reviews:
Best safes for jewelry
Best home safe for cash
Best home safe for digital media
Q: I'm a renter. What's the best home safe for renters?
Most of these home safes will work just fine for renters — you just won't be able to bolt them down to the floor or secure them to a wall though. Of course this will depend on the terms of your lease. It is best to check with your landlord.