In America, a building fire breaks out ONCE EVERY MINUTE — that's more than 500,000 fires every year.
The average damage from each of those fires? OVER $40,000.
You might say: "I'm a careful guy, I won't burn down my house!" But sometimes, it's not up to you.
You may be careful, but what about your neighbors? What about Mother Nature? Think of all those California forest fires that break out every year. Every one of those fires causes BILLIONS in damage, and certainly aren't the fault of the homeowners who get affected.
Rather than living with regret, live with peace of mind. There's one EASY solution: get the best fireproof home safe so that you can keep your valuables safe from the ravages of fire.
No time to do research? No worries, I've got you covered. I've compiled this list of the BEST FIREPROOF SAFES FOR YOUR HOME. In the process, I've asked real people who have these safes to get their view on how effective they are. You can hear about how these safes protect digital media, cash, documents, and more. Take a read!
Comparison Table
Best Small Fireproof Safes for Home and Cash
First Alert 2602DF Review
The First Alert 2602DF is a fire chest with a top-opening lid, so it isn't like your traditional safes.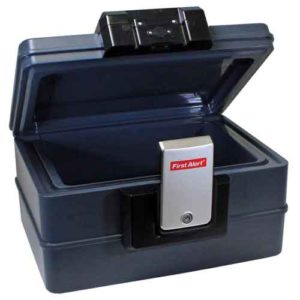 However, it definitely gets the job done when it comes to fireproofing. It has a rating for 30 minutes at 1550 degrees F, which is above the average temperature of a home fire (1100 degrees F). Furthermore, it's water sealed. This means that if fire sprinklers go off, everything inside will still stay dry.
First Alert will also replace the safe FREE of charge in the unfortunate case it ever does get involved in a fire. There's no time limit on this protection.
Like many of the safes on here, the 2602DF is great for both documents and digital media. Its dimensions allow it to hold many 8.5×11 paper documents, and the fire rating protects items like external hard drives and discs.
Hayden from Florida has a 2602DF that he uses for digital media. Here's what he has to say:
I have another First Alert safe I use for guns, and that had good reliability. First Alert is a good brand name for fireproofing as well, so I wanted to stay with it. So when I needed some place secure to stash my external hard drives and some CDs of family photos I haven't had time to transfer, I looked at other First Alert models. The 2602DF floated to the top because it has a pretty good volume but was still portable. The digital lock is really easy to use, your passcode can be anywhere between 4 and 8 digits.
First Alert 2602DF Specifications
Interior Dimensions: 6.0″H x 13.2″W x 8.6″D
Capacity: 0.39 Cubic Feet
Exterior Dimensions: 8.5″H x 16.1″W x 12.75″D
Construction: Steel
Weight: 27 lbs
Locking mechanism: Digital lock with included backup key
Fire resistance: 1,550 degrees F for up to 30 minutes
First Alert 2011F Review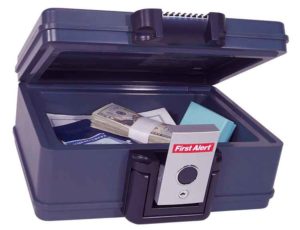 The First Alert 2011F is another great fire chest from First Alert, especially if you're on a budget. As I discuss in my reviews of the best money safes, the 2011F is good for putting cash (and more), which I know is a big concern for many homeowners.
The 2011F is no pushover when it comes to fire resistance. It's rated for 30 minutes at 1550 degrees F, which again is above the average temperature of a home fire. It's also water sealed. Therefore, if fire sprinklers go off, everything inside will stay dry. It's also been verified for usage with digital media like external hard drives.
Just like with the 2602DF, First Alert will also replace the safe FREE of charge in the unfortunate case it ever does get involved in a fire.
Here's an account from David, a 2011F owner.
I have two 2011Fs that I use for storing cash for a rainy day. I've put them under my bed, they're compact enough to fit.
Note that as a fire chest (and not a traditional safe), the 2011F does not have bolting holes. However, David came up with a creative solution to secure the 2011 in his house.
I don't use the carrying handle to carry [my 2011Fs]. What I did was buy some chain and wrap it through the handle and then under one of the bed legs that's on a wall corner. That means anyone who wants to take my 2011Fs away will have to move my bed first, which is no easy feat!
First Alert 2011F Specifications
Interior Dimensions: 3.7" H x 11.33" W x 7.09" D
Capacity: 0.17 cubic ft
Exterior Dimensions: 6.1" H x 13.94" W x 11.14" D
Weight: 14.50 lbs
Locking mechanism: Key lock, 2 keys included
Fire resistance: Up to 1550 deg Fahrenheit for 30 min
Water resistance: Waterproof for full submersion
SentrySafe 1160 Fire Safe Review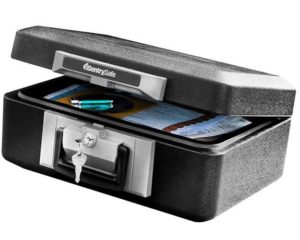 Like the 2011F, the SentrySafe 1160 is also a great option for storing cash, though you can certainly use it for other items as well. It's highly affordable, though the smaller size means that you will need to fold 8.5 x 11 documents in order to store them inside.
Ed is a SentrySafe 1160 owner. He says:
I run a pretty cash-intensive business and need to regularly transport large amounts of cash to deposit at the local credit union.
Ed adds a few comments on how he uses the 1160:
So the 1160 is pretty good because I can put it in a locked room in the office for most of the week and then when it's time to make a deposit, I'll bring it straight along with me. Very convenient, very strong.Fireproofing's a good extra bonus.
SentrySafe 1160 Fire Safe Specifications
Interior Dimensions: 3.80" H x 13.0" W x 8.6" D
Capacity: 0.25 cubic feet
Exterior Dimensions: 6.3" H x 15.3" W x 12.1" D
Construction: Solid Steel
Weight: 16.1 lbs
Locking mechanism: Key lock, with two keys included
Fire resistance: Up to 1550 deg Fahrenheit for 30 min
Best Large Fireproof Safes for Home and Cash
SentrySafe Fire and Water Safe SFW123DSB Review
If you need a larger fireproof home safe, then SentrySafe has you covered with its Fire and Water Safe product line.
Specifically I recommend the SFW123DSB variant of the fire and Water Safe. Why? Because it has a combination lock. The combination lock doesn't require batteries, which create extra risk during fires since they're liable to leak chemicals and explode.
The fire rating on the SFW123DSB is superb. It can last for a full hour at 1700 degrees F. The SFW123DSB is also externally verified to withstand a 15-foot drop. This means that if you put it on the second floor of your house, and the floor collapses during a fire, the safe will still protect its contents.
SentrySafe also has an after fire replacement guarantee for this safe. This means that — regardless of how long it's been since you bought the safe — SentrySafe will give you a FREE replacement in the unfortunate event of a fire.
The water resistance on the SFW123DSB is excellent as well. It can be fully submerged for 24 hours under 8 inches of water and still be fine. So this safe will not only survive sprinklers, it can survive a flood as well.
Joshua in Georgia uses a SFW123DSB to store camera equipment. He says:
I'm pretty into photography, and I have several lens and spare camera bodies that I like to keep in my SentrySafe.

I have the lens all wrapped in cloth pouches, same with the bodies. I have bodies on the bottom shelf of the Sentrysafe, and then the lens on the top one.

Actually the top shelf was wide enough for me to fit some of my bigger telephoto lens sideways, which was great. I have my SentrySafe protecting thousands upon thousands of dollars of equipment, and it's been a great investment so far that's made me feel a lot safer against both burglaries and natural disasters.
SentrySafe SFW123DSB Specifications
Inner dimensions: 13.8" H x 12.6" W x 11.9" D
Capacity: 1.23 cubic feet
Outer dimensions: 17.8". H x 16.3" W x 19.3" D
Construction: Solid steel
Weight: 90 lbs
Locking mechanism: Electronic keypad lock
Fire Resistance: UL Classified for 1 hr at 1700 deg F
Water Resistance: Water resistant, ETL verified for up to 8 in of water for up to 24 hours
Steelwater AMSWFB-450 2 Hour Fire Safe Review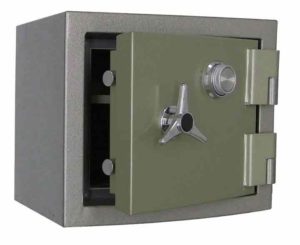 If you REALLY have a need high-grade fire protection, then Steelwater's AMSWFB-450 is what you need to buy.
The AMSWFB-450 has the BEST fire rating of all the safes on this list. It can survive for 2 hours at 1850 degrees Fahrenheit, many times the average length and heat of a home fire. It also has a combination lock, meaning you don't have to deal with batteries exploding during a fire and undermining the integrity of your valuables.
This is also a great anti-burglary safe with chrome-plated bolts and hinges that look like they came from a tank.
Lewis from Texas has an AMSWFB-450 that he uses at home.
I got Steelwater's 2-hour fire safe since I'm in an area that gets a lot of brush fires. Wanted to feel like my stuff's safe if an act of God happens. Better be prepared than sorry, you know?

Well in the spirit of preparation I got the safe that has the most powerful fire rating of anything in this size range. Two hours is 2x the length of every other competitor out there and that made me feel like this was a good buy.

Now I use this as an all-purpose safe. I have a mix of cash, documents, and family heirlooms inside. There's a shelf that you can configure the height of in order to accommodate your own needs. Very happy with my purchase.
Steelwater AMSWFB-450 Specifications
Interior Dimensions: 11.6875″ H x 14″ W x 12.875″ D
Capacity: 1.22 cubic ft
Exterior Dimensions: 17.75″ H x 20.125 H x 20.5″ D
Weight: 235 lbs (two layers of steel)
Locking Mechanism: Combination lock
Fire resistance: Rated for 2 Hours at 1850°F
Fast Facts on Fire Resistance
Average House Fire: 1,100 degrees F and above
An average house fire gets to 1100 degrees Fahrenheit. In many situations, house fires may even burn at 1400 degrees Fahrenheit or more.
A Note on Fire Ratings
If you want to protect against fires, you'll need to look at just how fire resistant your safe is. How do you do that?
Well, the answer is fire ratings. Fire ratings are essentially a description of how long a safe can survive in a certain temperature. For example, a safe rated for 1 hour at 1400 degrees F will stay below 350 degrees Fahrenheit for at least 1 hour in a 1400 F fire.
Many safes talk about providing a Half Hour guarantee at 1200 degrees Fahrenheit. While this should give protection for regular-sized fires, it may not be enough for the most intense of house fires, which can go for 45+ minutes before the fire department can contain it.
The lesson here is that you'll want to get something rated for at least Half Hour/1200 degrees Fahrenheit. If you're very worried about fires, then get something with a higher rating!
You'll also want to consider WHAT items you put in your safe when assessing fire resistance.
As mentioned above, ratings guarantee that a safe interior will be below 350 degrees Fahrenheit. Paper begins to discolor above 350 degrees, and (if you remember the book Fahrenheit 451) will start to burn at 451 degrees. Consequently, if you want to protect important documents, you should get a higher fire rating than you first think.