In the US, a building fire happens ONCE EVERY MINUTE — that's over 500,000 fires per year. The average damage from each of those fires is over $40,000. Think about how many guns you can buy with $40,000!
You might say: "I'm a careful guy, I'm not going to let a kitchen spark burn down my house!" But oftentimes, it's not up to you. I'm sure you're careful, but what about your neighbors? What about Mother Nature? Think of all those forest fires that happens in California every year. Each of those fires causes BILLIONS in damage, and almost always aren't the fault of those who get affected.
If you're someone with a big gun collection, this might be getting you worried. As a fellow gun owner, I can totally understand that. I've spent many years and many thousands of dollars building up my collection, and I'd hate to see it go up in smoke. I'm thinking that you have the same thoughts.
Fortunately, through all my involvement with various firearms and hunting communities, I know many other people who have similar worries… and solved them by getting a fireproof gun safe. Through my contacts as well as research, I've compiled this list of the best fireproof gun safes for the money.
Keeping in mind the realistic differences between different types of guns, I've broken this list down into two parts. The first part has the best fireproof safes for long guns. These are perhaps more common when it comes to gun safes directly marketed as fire resistant. The second part has the best fireproof safes for handguns.
By combining the real-life experiences of folks I know from gun communities and careful research, I've tried to give all the information you need to make the BEST and MOST PAINLESS decision.
Ready to start protecting your guns from fire? Keep reading!
Comparison table: fireproof long gun safes
Best fireproof safes for long guns
Here's a couple of high-quality safes that'll protect your long guns — be they hunting rifles, shotguns, or AR-15s, from raging fires. I've made sure to cover a good set of capacities since y'all may have different gun collection sizes.
Steelwater 16-gun Heavy Duty Safe Review
Dale from Eastern Oregon posted about this safe on one of my hunting forums: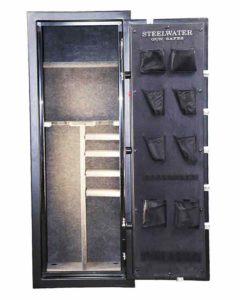 I had my brother, who's a firefighter, take a look at this safe. He said for individual civilians it fits the bill of what a good fire safe should be. Apparently over 1800 Fahrenheit is at the upper end of your run of the mill home fire, and as long as you live in a more populated area, most home fires get dealt with in under an hour.

It's really the aftermath and the firefighting process that's important though. You have to get a safe that expands and seals itself during a fire. The seal does two things besides keeping the fire from getting in. #1 it keeps smoke out. #2 it keeps firefighting foam or water out.

My brother's seen many cases where even if you've got durable things inside a safe like guns. Most of the time firefighting foam is mixed in concentrations that aren't corrosive, but if you get too much or have too much lying around after a fire, the base materials can cause some corrosion.

Anyways, he says my Steelwater has a decent enough expanding seal to prevent this from happening. It might not be military or government grade (which would cost many times more) but good for civvies like me. "
Steelwater 16-gun Heavy Duty Safe Specifications
Inner dimensions: 53" H x 22" W x 10" D
Outer dimensions: 56" H x 20" W x 14" D
Capacity: 9.07 cubic ft, 8-10 guns on average, up to 16 guns.
Construction: 12-gauge steel
Weight: 351 lbs
Locking Mechanism: EMP-proof Electronic keypad lock with single double-bitted backup key.
Fire Resistance: Rated for 60 mins at 1875 deg F
Other Details: Free silica dehumidifier box, California DOJ Approved
Liberty Revolution 18-gun Safe Review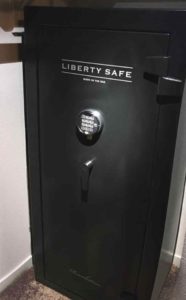 The fire rating on this Liberty 18 gun safe is numerically lower than the Steelwater long gun safes on here. However, I'm including it because it is made in the USA. I always like to give folks the opportunity to buy American, because it's a way to guarantee quality and also support American jobs.
My hunting forum friend Levi from Texas agreed when he posted:
… I'm going to recommend this because it's made in the USA. The other brands I looked at were imports. The craftsmanship does feel American. My Liberty 18 gun safe is rock solid.
Devin from North Carolina also replied on the same forum thread and mentioned:
Got one of these too. Liberty's a great company by my books. Solid service by real people all the way. I looked forever for a fireproof gun safe that was made in the USA. It was hard because lots of imported models had great specs, but I just have a hankering for those made at home. Call my old fashioned if you want.

Anyways Liberty's safe might've had lower numbers, but I would think that when push came to shove American ingenuity and reliability would make this thing overperform in a real event. I mean it's like if you were going to fly on a Boeing or a Russian Sukhoi. Sure maybe the Sukhoi has longer range by the numbers but if my life depended on it, I'd go with the Boeing. I sure as hell don't know what the quality control those Russkis do are compared with the guys in Everett.
Liberty 18-gun Safe Specifications
Inner dimensions: 56″ H x 22.25″ W x 13.5″ D
Outer dimensions: 59.5″ H x 24.25″ W x 22″ D
Capacity: 9.73 cubic ft, up to 18 guns
Construction: 12-gauge steel
Weight: 340 lbs
Locking Mechanism: Electronic keypad lock
Fire Resistance: Rated for 30 mins at 1200 deg F
Steelwater 22-gun Extreme Duty Safe Review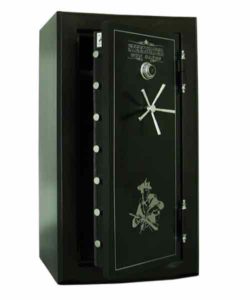 My friend Howard shared his experience with this safe. Here's another Steelwater safe that I want to recommend. This Steelwater 22-gun safe isn't just "Heavy" duty, it's "Extreme" Duty. In fact, it has the BEST fire rating out of all the gun safes I've found. It's rated for a whopping 2 hours (120 mins) at 1875 Fahrenheit. I repeat… there's no other civilian-buyable long gun safe out there I've seen with a higher rating.
As you can see, he lives in Southern California. Prime fire country… and liberal regulations galore:
Hope your readers find my story useful, always happy to share. I'm out in Southern California so wildfires are a big worry. Plus I have neighbors who have open-pit barbecues all the time and, honestly, are airheads. I spent a lot of time and money on my long gun collection, so it's something I want to protect in case I'm not able to drive everything out before a fire. It's not just money though. I have a few pieces that I can't buy in California anymore since they tightened the regs on assault weapons.
He had a real good experience with delivery and customer service too:
Anyways, I went with the fireproof Steelwater 22 Gun Safe because one of my cousins had one. Mine came in an 18-wheeler. They'll actually call you once you buy the thing on Amazon and coordinate the logistics. Real friendly and professional. It's a huge safe that you pay good money for, so makes sense. When the 18-wheeler got to my house, they lowered the safe down for me. I had a friend's pallet jack on standby to then move it into my garage. Had friend help me.
Finally, he's pretty positive on the actual end result:
The thing's big and hulking. The steel feels really strong, so is the combo lock. There's actually power plugs and USB ports in the safe too. I bought a dehumidifier and plugged that in to keep my guns from rusting. Fortunately I haven't gone through a fire yet, but this Steelwater safe looks like it can survive anything.
Steelwater 22-gun Extreme Duty Safe Specifications
Inner dimensions: 54.25″ H x 26″ W x 17″ D
Outer dimensions: 59″ H x 30″ W x 24″ D
Capacity: 13.88 Cubic Ft. 22 guns max, average 14-18
Construction: 9 gauge steel
Weight: 772 lbs for extreme duty
Locking Mechanism: UL listed group 2 combination lock
Fire Resistance: Rated for120 min at 1875˚F
Steelwater 45 gun safe Review
At 32.56 Cubic Feet, this is the BIGGEST safe we have on this list by a long shot. More than 2x bigger than the next biggest safe on this list!Do you have a BIG gun collection that you need to protect from fires? The Steelwater 45 gun safe looks right up your alley.
Derrick, also from Southern California, is a proud owner of this 45 gun safe and shared his thoughts with me.
His initial thoughts were about just how big this safe is, rightfully so…
Holy hell this thing is MASSIVE. You need to check if your house is big enough for it. I had to move a bunch of furniture around in my house to make sure this could fit. It's as tall as a 5"8 person, wide enough to fit every single one of my rifles. This was a pain in the ass to move I tell you, I was going to put it on the second floor but decided no after realizing this thing's close to a ton especially if fully loaded. Had to get movers to help with it.
Of course, as Derrick mentioned, the hugeness is beneficial…
Yeah you're right I should be thankful, if it weren't so big I obviously wouldn't have bought it. Solid steel, enough capacity for all I have… I think I save money and effort in the end since buying two smaller safes would've been a pain in the ass.
And there's the fire resistant part too…
BEST fire rating for something of this size. Couldn't find ANYTHING this big but still having 60 minutes and 1800+ degrees. It's like at this size everyone's telling you to cut your losses or something. I say, hell no! I'm keeping my guns, that's why I got this safe. Big enough, fireproof enough.
Derrick was also impressed with the extra bonus:
Also real happy that they threw in a dehumidifier, great touch. It's like the logical thing you need. Protect against fire, but protect against humidity as well. Usually there's a tradeoff between this for gun safes but glad Steelwater didn't make it so here.
Steelwater 45 gun safe Specifications
Inner dimensions: 68.25" H x 39.25" W x 21" D
Outer dimensions: 72" H x 42" W x 27.625" D
Capacity: 32.56 Cubic Ft.
Construction: 12-gauge steel
Weight: 888 lbs
Locking Mechanism: UL listed group 2 combination lock
Fire resistance: Rated for 60 minutes at 1875°F
Other Details: Includes a Dry Pack 450 gram silica gel rechargeable dehumidifying box with purchase
Best fireproof safe for handguns
Have something smaller in size — pistol, revolver, etc.? Here are some safes that can fit your handguns without breaking the bank. All these options happen to be water resistant too, so you get two resistances for the price of one!
First Alert 2087F Waterproof Fire Safe Review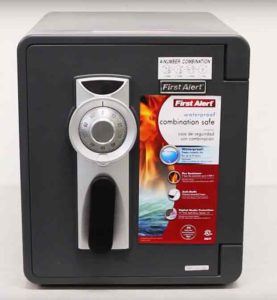 Ken from Tucson mentioned in a Facebook group comment:If you've only got a couple handguns and want a cost-effective fireproof place to put them, the First Alert 2087F Waterproof Fire Safe might just fit your bill.
I bought the 2087F as my starter fireproof safe. Got two of my pistols in there, thought it can definitely fit more. It has two shelves. I put pistols one one shelf, and then ammo on the other. There's a bit of extra space so I put an external hard drive in there as well since the safe is good for electronics as well.
Gene from Baltimore said in the same comment thread:
Also got a 2087F, back when my gun collection was smaller. Had enough space for me to keep putting handguns in until it got filled. Have 6 9mms in there now, along with a small silica dehumidifier.
First Alert 2087F Waterproof Fire Safe Specifications
Inner dimensions: 12.88" H x 10.38" W x 12.25" D
Outer dimensions: 16.5" H x 14.5" W x 19" D
Capacity: 0.94 Cubic Ft
Construction: Styrene composite, steel, and cement layers
Weight: 82 lbs
Locking Mechanism: Combination lock with two override keys
Fire resistance: UL Classified 60 minutes at 1700 deg F, will keep under 350 deg F protecting electronics
Other Details: Has waterproof seal
SentrySafe Fire and Water Safe Review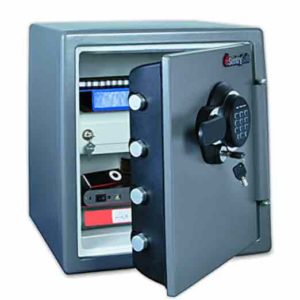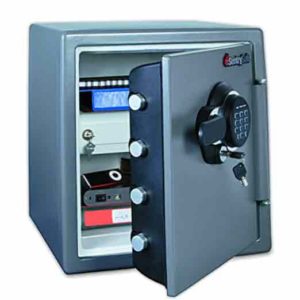 This is one of the most popular fireproof safes in general, not just for guns. I know folks who use it for documents, mementos, and more. SentrySafe's Fire and Water Safe has a pretty accurate name… it is meant to protect against both fire and water. What's reassuring is how there's specifics around the water protection. Its water resistance is verified by Edison Testing Laboratories, a reputable third party testing lab. Similarly, its fire rating is verified by Underwriter Laboratories, another leading third party testing lab.
One note: I'm recommending the Electronic lock version, but there is also a combination lock version. The thing about the combination lock version is that you can't set a custom combo. So you're stuck forever with the combo SentrySafe gives you out of the factory. That's kinda a bummer if someone in your family finds out your combo when you don't want to, for example.
The Fire and Water Safe is bigger than the aforementioned 2087F. In the same Facebook thread, Pat from California talked about his SentrySafe Fire and Water Safe, saying…
Not to rain on your parade, but I decided to get SentrySafe's Fire and Water Safe instead as my starter fireproof safe. The fire and water ratings seemed more believable and externally verified, trust it more. Plus it was bigger and stronger. If you get one you'll see there's these four hefty locking bolts sticking out from the door. Been very satisfied with how reliable the safe has been since I got it a year ago.
SentrySafe Fire and Water Safe Specifications
Inner dimensions: 13.8″ H x 12.6″ W x 11.9″ D
Outer dimensions: 17.8". H x 16.3" W x 19.3" D
Capacity: 1.23 cubic feet
Construction: Solid steel
Weight: 87 lbs
Locking Mechanism: Electronic Lock
Fire Resistance: UL Classified 60 minutes at 1700 deg F
Water Resistance: Water resistant, ETL verified in up to 8 inches of water for up to 24 hour
First Alert 2096DF Waterproof Fire Safe Review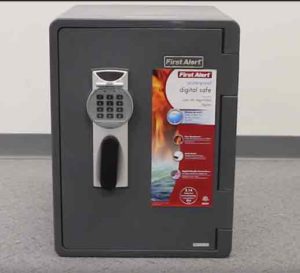 The First Alert 2096DF is the bigger brother to the First Alert 2087F. The specs are almost all the same, the only change is how big it is. The 2096DF is more than twice the capacity of the 2087F (2.14 cubic feet versus 0.94). Therefore, if you have a larger collection of handguns, get the 2096DF!
Scott from Arlington said:
I actually sold off my 2087F after my pistol collection got too big. Since it served me well, I decided to just go for the larger one in First Alert's same series. That's the 2096DF. Can't say anything bad about it.
First Alert 2096DF Waterproof Fire Safe Specifications
Inner dimensions: 19.69" H x 13.5" W x 13.88" D
Outer dimensions: 24.13" H x 17.63" W x 23.38" D
Capacity: 2.14 cubic feet
Construction: Styrene composite, steel, and cement layers
Weight: 145 lbs
Locking Mechanism: Electronic lock with 2 override keys
Fire Resistance: UL Classified 60 minutes at 1700 deg F, will keep under 350 deg F protecting electronics
Other Details: Has waterproof seal
Information
Humidity v. Fire Resistance – Get a Dehumidifier!
Oftentimes, there's a trade-off between the degree of fire resistance and the amount of humidity a safe experiences.
What do I mean by this?
Some fire safes (especially those with cement or styrene) have wall materials that contain/suck up moisture. Such wall materials provide good protection for fires. However, they may also make the interior of your safe more humid than you want as a side effect.
Why is this bad?
Well, guns are made of metal. If you put them in too humid of an environment, they might rust. That's bad for the reliability and function of guns.
So what should you do about this?
Fortunately, the easy solution is to put a dehumidifier inside your safe. There's different kinds of dehumidifiers. One kind is silica gel, like the crystals you see in little packets when you buy shoes. You can get canisters/boxes of silica and put them in your safe. Sometimes the silica gets put in special boxes that help control the absorption. Many of these boxes require power but can be recharged so you don't need a constant power supply.
There's also dehumidifier rods that give off moderate heat to prevent condensation from occurring. Those rods require constant electrical power supplies, which is why some safes, especially long gun safes, have internal power supplies.
So… moral of the story: make sure to get a dehumidifier if you have a fire resistant gun safe!