Alright, so you're a gun owner who wants to protect his guns. Well, I am too, and I want to help you find the best gun safe for the money.
I've got a pretty extensive gun collection, so I ended up researching what the best gun safes are across a bunch of categories. By "research", I don't just mean Googling around. I belong to a pretty active gun club, as well as some firearms enthusiast Facebook groups. Therefore, I asked actual safe owners and got their opinions. I'm trying to give you the best gun safe reviews possible.
In the reviews below, I'm going to share this information — from REAL people — with you. I'm going to give you BOTH the hard facts and people's real-life experiences. I hope that, with this information, you can make the BEST and most PAINLESS decision about what gun safe to buy.
Take a read!
Comparison Table
Top Safe for Pistols
Fort Knox PB1 Pistol Safe Review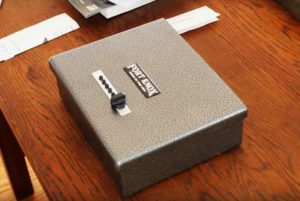 I've had this safe for about a year now. Right now I have two 1911s sitting inside of it, along with extra ammo.
I bought the safe using Amazon. It came really quickly, within 4 days. The styrofoam around the safe box was all still intact, and seemed pretty strong. The safe itself didn't have a scratch on it.
After taking everything out, I followed the instructions on the included manual and set a combination. It was pretty painless, and if you want you can make it so that your combination requires pressing 2 buttons at the same time.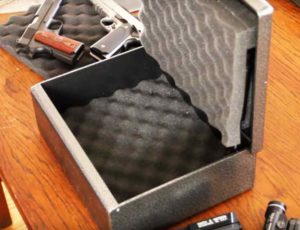 Me being me, I've actually given my safe a few friendly whacks with a hammer just to see what would happen. There was no denting, and the 10-gauge steel really felt sturdy. The lid feels great too. There's a gas strut, so it opens a bit like a bank vault door, or the trunk of a car. The lid also extends downwards over the edge, like a steel waterfall. You can't get anything in there to pry out. The safe really screams "quality".
Overall, I'm a happy camper with this safe. It fits two of the weapons that I use more often, and I can grab ammo from it too. The price was excellent, I paid just over $200 for it, which honestly is a steal for something that has this quality of construction. I feel safe, and it didn't break the bank.
My buddy Mike said this when I asked him about his Fort Knox PB-1
"I've had the thing for 4 years now, bought it back in 2013. Everything's still great. Still strong and sturdy as ever. The simplex [lock] still works just great, don't need to swap out batteries or anything. I bolted my PB-1 down, so it kinda just sits around in my basement corner. There's four holes at the bottom so if you want to bolt it, it's pretty easy. Low maintenance, high safety value!"
Fort Knox FTK PB-1 Specifications
Inner dimensions: 3″ H x 10-1/2″ W x 9″ D.
Outer dimensions: 4-1/4″H (5-1/4″H with buttons and knob) x 12-1/2″W x 10-3/8″D
Capacity: 0.164 cubic feet (1-2 pistols)
Construction: 10-gauge steel with 3/16" wraparound door.
Weight: 24 lbs
Locking Mechanism: Simplex mechanical lock
Other Details: Made in USA. Meets California DOJ Requirements. Comes with Fort Knox Lifetime Warranty
Top Safe for Long Guns
Barska Quick Access Biometric Rifle Safe AX11652 Review

I happen to also have this safe, so I'll give you my two cents. I got it on Amazon a couple years back, with their Prime service. Honestly, I probably made back a bunch of my Prime subscription fee by making them ship this safe. The thing's almost 70 pounds, and I got it shipped to my front door in 2 days, no extra cost.
My Barska Biometric Safe currently has 3 of my hunting rifles in it. The safe comes with a rack (which you can remove) that has four spots. However, it might be a bit hard to fit 4 rifles in there, especially if you have scopes. It's going to depend on what rifle you have. Just keep that in mind and set your expectations accordingly. Also, the safe floor is just bare metal, so I found some spare carpeting and built some DIY lining.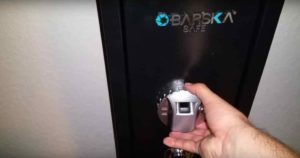 I'm always wary of biometric locks getting read errors. With this safe I did a classic trick for getting around read errors… I registered several of my fingers in different positions. The safe stores 120 fingerprints in total, and I probably have a dozen registered prints of just my right thumb. I put the 4 AA batteries around a year and a half ago and everything's still fine.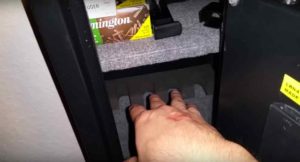 I also gave this a few friendly whacks with my hammer. No dents, still felt pretty sturdy. It doesn't have the same great feeling as the PB1 above, but for a long gun safe it's decent.
Overall, my takeaway is that the Biometric Safe gives you pretty good bang for your buck. Barska is a pretty well-established brand name in the field of gun safes. For something that fits 3 (and maybe 4) guns, the price I got (around $250) was pretty good.
Willie, a moderator on one of the local hunting forums I'm registered on, PM'd me this:
Hey, my Barska's worked pretty well so far. I was choosing between this Barska safe vs. one of Stack-On's 900-series security cabinets, which was cheaper. Background: I actually already had a Stack On safe for some of my older long guns, and I found the quality of construction to be OK but it could've been better. So I decided to go for the Barska because you mentioned it would probably be more sturdy, and seems like you're right. This thing feels a lot stronger than my old Stack-On.
Barska Quick Access Biometric Rifle Safe Specifications
Inner dimensions: 52" H x 9.7" W x 6.3" D
Outer dimensions: 52.17" H x 9.8" W x 8.6" D
Capacity: 1.84 cubic feet, up to 4 long guns
Construction: Steel
Weight: 66 lbs
Locking Mechanism: Biometric lock with 3 solid steel deadbolts. Stores up to 120 fingerprints
Other Details: CA DOJ Approved
Top Quick Access Gun Safe
SentrySafe QAP1E Pistol Safe Quick Access Review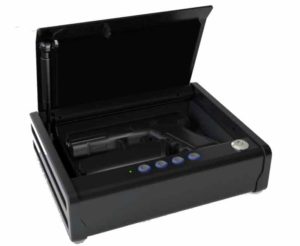 Note that this safe comes in multiple variants. You can have a electronic, biometric, or even key lock. There's also a variant for two pistols.
The variant I'm recommending is the one that fits one pistol and has an electronic lock. It happens to be the version that my gun club buddy Joel bought to help his wife stay safe.
Here's what Joel told me when I asked him about the QAP1E:
As you know, I don't live in the safest part of town. There's home invasions pretty often, it's not great. My wife's home most of the time, and I wanted to get her something to keep our 9mm in. She's also big on 2A, knows how to shoot but obviously not into it as much as I am! I decided to get the QAP1E from SentrySafe because it would be great for quick access. It's light enough that we put it on our nightstand.

Like you, I'm really afraid of biometric read errors. That's why I decided to get the electronic keypad. I had my wife keep practicing and practicing until she could do the code with her eyes closed and the lights in our bedroom out. She got it in her muscle memory. We actually practiced together on everything with a stopwatch. We got it so that she could open the thing in under 3 seconds and have the 9mm ready. She feels a lot safer now, knowing that she can quickly get the gun out of the QAP1E while I'm at work."
SentrySafe QAP1E Specifications
Inner dimensions: 2.2" H x 9.7" W x 6.7" D
Outer dimensions: 3.2" H x 12.1" W x 9.9" D
Capacity: 0.08 cubic feet, 1 pistol or other handgun
Construction: Solid steel
Weight: 11.9 lbs
Locking Mechanism: Electronic keypad lock (swappable for biometric or key lock)
Other Details: California DOJ Approved
Top Fireproof Gun Safe
Steelwater Extreme Duty 22 Gun Safe Review
Steelwater isn't kidding when they call this "Extreme Duty". This is a top-notch safe that'll allow a large number of your guns to survive an intense fire.
My old friend Howard has this safe and here's what he has to say: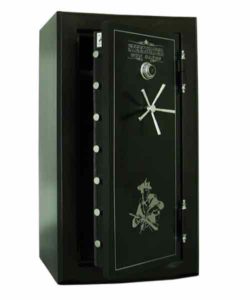 Hope your readers find my story useful, always happy to share. I'm out in Southern California so wildfires are a big worry. Plus I have neighbors who have open-pit barbecues all the time and, honestly, are airheads. I spent a lot of time and money on my long gun collection, so it's something I want to protect in case I'm not able to drive everything out before a fire. It's not just money though. I have a few pieces that I can't buy in California anymore since they tightened the regs on assault weapons.

Anyways, I went with the fireproof Steelwater 22 Gun Safe because one of my cousins had one. Mine came in an 18-wheeler. They'll actually call you once you buy the thing on Amazon and coordinate the logistics. Real friendly and professional. It's a huge safe that you pay good money for, so makes sense. When the 18-wheeler got to my house, they lowered the safe down for me. I had a friend's pallet jack on standby to then move it into my garage.

The thing's big and hulking. The steel feels really strong, so is the combo lock. There's actually power plugs and USB ports in the safe too. I bought a dehumidifier and plugged that in to keep my guns from rusting. Fortunately I haven't gone through a fire yet, but this Steelwater safe looks like it can survive anything. I've got great peace of mind.
Steelwater Extreme Duty 22 Gun Safe Specifications
Inner dimensions: 54.25″ H x 26″ W x 17″ D
Outer dimensions: 59″ H x 30″ W x 24″ D
Capacity: 13.88 Cubic Ft
Construction: 9 gauge steel
Weight: 772 lbs for extreme duty
Locking Mechanism: Combination lock
Other Details: Fire rated for 120 min at 1875˚F
Top Cheap Gun Safe
First Alert 5100K Portable Handgun Safe Review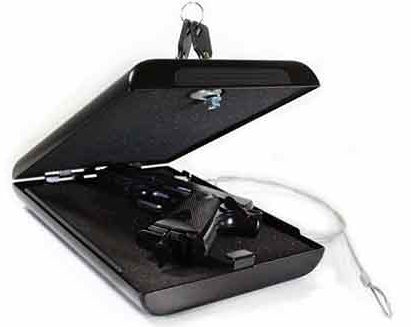 I have a younger second cousin who only recently got into firearms. He asked me to help find an affordable safe for him, since he isn't making so much money yet but still wants high quality protection for his pistol.
I asked folks in my gun club and the First Alert 5100K came up as a suggestion.
My cousin managed to snag it off Amazon when it was on sale, cost him around $25. Here's what he had to say:
Please tell the guys at the gun club thanks. I'm pretty happy with the 5100K. Honestly, I was really surprised that it's still made of solid steel, even though it cost as much as a video game. TSA approved, too. I guess I can use this when I fly over to visit next, and you can see it for yourself. Anyways, thanks again.
First Alert 5100K Specifications
Inner dimensions: 1.5″ H x 6.3″ W x 9.3″ D
Outer dimensions: 1.75″H x 6.5″W x 9.5″ D
Capacity: 0.051 cubic feet (1 handgun or pistol)
Construction: 18-gauge steel
Weight: 4.5 lbs
Locking Mechanism: Key lock (2 keys included)
Why do I need a gun safe?
Protect against theft
In the United States, one gun is stolen every minute.
When someone steals your gun, you're not only losing a possession — you're losing your peace of mind. Almost always, stolen guns get used for criminal purposes — even murder.
Fortunately for you and me, most of the lowlife thugs who steal guns aren't that smart. If they were, they'd be upright citizens like us!
This means that if we lock our guns in safes, we can easily keep our LEGITIMATE guns out of the hands of these ILLEGITIMATE criminals.
Just imagine some drugged-up MS-13 gangster trying to break open your strong, sturdy gun safe. It's not going to end well for that gangster!
If we use gun safes, we not only protect ourselves — we protect our guns, and we protect our country. And I say: amen to that!
Stick it to those "gun control" freaks
You and me, we're law-abiding citizens. But every time some thug steals a gun and commits a crime, "gun control" nutjobs swoop in and use that as an excuse to take away our Second Amendment rights.
Well first of all, I hope they can go cry in their safe spaces. The Constitution is the Constitution and they aren't changing it anytime soon.
However, the BEST way that we can STICK IT to those wackos is by showing just how responsible we are. If we secure our guns in safes, they should have NO EXCUSE to attack legitimate gun owners like us for being "negligent".
We're NOT going to let people take away our guns. And heck, what better way to drive that point home than to lock our guns up in safes!
Alright, I got a bit fired up there. But I hope that shows you just how much I care about finding the best gun safe and protecting our guns.
Protect your children
If you have kids, they're probably the most important things in your life. You'd do everything to protect them, wouldn't you?
Part of protecting your children is getting a gun safe. I'll keep this short: thousands of children die every year from accidental gunshots.
I promise you: your children will NOT be one of them if you get a safe.
Here's another way to think about it. Part of raising kids in a Second Amendment-friendly household is teaching them to respect firearms. There's no better way to do that than putting your guns in a safe.
Think about it — if you take extra effort to secure your guns, that shows your kids that guns are important. They're not something that you just throw around on the floor. They're something that require (trigger) discipline and care.
If your kids grow up knowing that guns are important, they too will be angry if the government tries to take them away.
With gun safes, you kill two birds with one bullet. You protect your children, and you give them a free education.
Obey the law
Do you have kids and live in one of the 28 states listed below?
California, Colorado, Connecticut, Delaware, District of Columbia, Florida, Georgia, Hawaii, Illinois, Indiana, Iowa, Kentucky, Maryland, Massachusetts, Minnesota, Mississippi, Missouri, Nevada, New Hampshire, New Jersey, North Carolina, Oklahoma, Rhode Island, Tennessee, Texas, Utah, Virginia, and Wisconsin (Source)
If YES, then you should get a gun safe. These states have what's called a Firearm Access Prevention Law.
These laws require that you secure your gun so that kids can't access them. If you don't follow the laws, you may be subject to criminal penalties!
Note: If you live in California, you will need to buy a safe that's approved by the California Department of Justice (CDOJ). These safes have to satisfy a specific set of standards.
Save on insurance… or provide your own
Oftentimes, homeowners' insurance policies will give you a discount if you have a gun safe.
If you think about it, that means your gun safe might end up being basically FREE. Actually, more than free. You might spend a couple hundred dollars on a good safe, but that will probably save you thousands in insurance premiums across many years.
There's another side to this. Sometimes, insurance policies will only cover up to a certain dollar value of firearms. Oftentimes that's something really measly like $3,000. That's really not much.
If the insurance company won't protect and cover your guns, so you'll need to protect them yourself. That's where a good safe comes in.
What should I look for in a best gun safe?
Locking mechanism
Strong locking mechanisms will add an extra layer of defense against thieves. This will ensure you have the best gun safe possible.
You'll want to get a lock that can't be easily cracked, and has thousands if not millions of combinations (assuming a combination lock)
For easy access (on your part, not the thief's), biometric locks also work quite well. All you need is to swipe your fingerprint.
Beware that occasionally biometric locks might get fingerprint read errors. 99% of the time, they're OK.
However, if you're trying to solve for life and death situations where even 1% error rate matters, keep that in mind. If your hands our sweaty because an intruder is in your house, that might cause a read error.
Construction
If a really determined thief comes to your house, they might try smashing or prying open the safe rather than picking the lock. That's where strong construction comes in.
You'll want a gun safe that can withstand physical assault. What fits the bill?
Well, something with steel walls usually does the trick. Obviously the thicker the steel, the stronger the safe. You can read our longer guide to picking safes for more info, but steel is measured in gauges.
The lower the gauge, the stronger the steel. If you see gauges like 14 or below, that's some pretty strong steel.
Door construction is also important. It's best if the door is pry-resistant, because otherwise a thief might try using a crowbar to pry it open.