Are you looking to store your firearms or other valuables in a Stack-On Safe? Well, this is the page for you. Here, I'll help you find the best Stack-On gun safe for the money.
There's no need to waste time looking everywhere for information on Stack-On gun safes, because I've compiled all the info you need here. I'm hoping to make your life easy, so that you can start protecting your guns ASAP!
In the article below, I've analyzed a bunch of Stack-On Gun Safes and ALSO Stack-On Home Safes.
I've done a large amount of research already,but not just that. I've also gotten the opinions of people that I know in various firearms communities on Facebook, forums, and in real life.
A real human being has tried a good number of the safes below and told me how their experience was.
Check out the list and see which Stack-On safe works best for your needs!
Comparison Table
Best Stack-On Handgun Safe Reviews
Stack-On GCB-900 Steel Pistol/Ammo Cabinet Review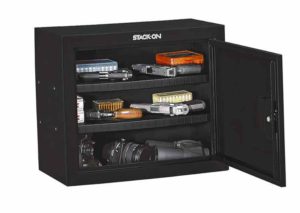 So if you want to get really technical about things, the Stack-On GCB-900 is a gun security cabinet rather than a gun safe. The GCB-900 is still made of steel, but it isn't necessarily at the same grade as an official gun safe.
However, this does mean that the Stack-On GCB-900 is an excellent budget option… it usually costs around $65 on Amazon, which is a steal (pardon the pun) for something that protects your guns.
Also, it's an Amazon official "top pick", meaning Amazon chose specifically to highlight it because it has good reliability and reviews.
Grant, a college student who posts on one of the gun forums I'm on, got this safe.
Here's what Grant had to say…
I've got a GCB-900 from Stack-On. It was cheap but still pretty good, that's why I got it. Plus I got it with Amazon prime while I was still on the free trial for students with .edu email addresses. I live in an apartment off-campus.

I have a TriStar T-120, use it somewhat regularly since I'm part of the marksmanship club (still a beginner though!). First of all, I have the key on the same keychain as my house keys. It goes everywhere with me, so I won't lose it. No roommates, so don't run the risk of someone stealing them while I'm in the apartment.

Anyways, the GCB-900 is actually way bigger than I expected. I put the T-120 on the bottom, and then extra ammo on the first shelf. Even on those two shelves there is still lots of extra room. Then there's a second shelf that I don't really use for anything right now. If I have extra ammo I put it up there.

But again…. I am barely using this safe because it's so huge. You could probably stick six or seven pistols in there. GREAT value for money.
Stack-On GCB-900 Steel Pistol/Ammo Cabinet Specifications
Inner Dimensions: 17.5" H 20" W x 9.5" D
Capacity: 1.9 cubic feet, 2 removable shelves
Outer Dimensions: 18″ H x 21″ W x 10″ D
Construction: Solid Steel
Weight: 30 lbs
Locking mechanism: Double-bit key lock
Stack-On Quick Access Safe (QAS-1545) Review
Stack-On continues the "value for money" tradition with its QAS-1545 Quick Access Handgun Safe.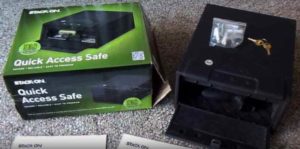 I got a QAS-1545 around 2-½ years ago and the batteries for the electronic keypad are still going strong. It's light enough for you to put on a nightstand, though I have mine bolted down. The construction is excellent, not much else I can say about that. I feel like I can drop this thing from 2 floors and it'll still be fine.
One slightly funny but annoying thing: the keypad is REALLY loud. I guess they probably do that in case some thief tries to guess the code, the loud beeps are kinda like an alarm. So some people will definitely appreciate that. My preference was different, obviously.
Fortunately I figured out I could turn off the keypad's beeps. You have to press all three keypad buttons at the same time, and then hold them for 3 seconds… a green light will flash, and then you know you won't hear those annoying beeps. If you want the annoying beeps again you can repeat the same procedure.
That was really the only thing that ticked me off, but once I learned how to turn that beeping off I was really impressed with how much bang for buck this thing gives.
Stack-On QAS-1545 Specifications
Inner Dimensions: 5" H x 4" W x 11.5 " D
Capacity: 0.5 cubic feet
Outer Dimensions: 5.63″ H x 4.38 W" x 12.25″ D
Construction: Solid steel, pry-resistant door
Weight: 13 lbs
Locking mechanism: Electronic keypad lock, backup override keys
Best Stack-On Safes for Long Guns
Stack-On 10-Gun Security Cabinet (GCB-910) Review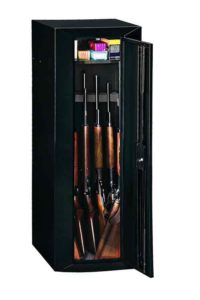 The Stack-On GCB-910 10-Gun Safe is a great budget option that protects your guns and also complies with state gun storage regulations.
Andrew from Michigan made a Facebook group comment about this safe, here it is:
I had a couple of extra hunting rifles that I needed to lock up, and I didn't want to spend too much to do that. One of my buddies from my private hunting club had an extra Stack-On GCB-910s and sold it to me dirt cheap. The original retail price is in the mid hundreds, already a pretty good deal.

Anyways, one of my rifles was a bit long so I had to modify the cabinet a little. There's a top shelf my buddy kept in, but it's removable so I took that out. Got more vertical space and fit all my guns inside.
Stack-On 10-Gun Security Cabinet (GCB-910) Specifications
Inner Dimensions: 53" H x 16.38" W x 13.0" D
Capacity: 6.47 cubic feet, up to 10 long guns
Outer Dimensions: 53" H x 17″ W x 13.5″ D
Construction: Solid steel
Weight: 55.4 lbs
Locking mechanism: Key lock
Stack-On 10-Gun Safe (SS-10-MG-C) Review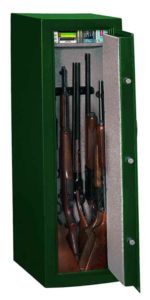 If you're looking for an official gun safe from Stack-On for a smaller number of long guns, look no further than the SS-10-MG-C. This safe can fit long guns up to 54 inches in length. It's advertised for 10 guns, but as always the real capacity is going to depend on what kind of guns you have and will likely be lower than 10.
Rick, who's from a game hunting forum I'm a member of, had this to say about the Stack-On SS-10-MG-C…
I would recommend this for anyone who wants an actual gun safe but is on a budget. I got my SS-10-MG-C with free delivery and have been using it for some of my rifles with no problems. It came with already installed cloth lining and my guns rest inside with no scratches or dents.

The exterior construction of the safe is very sturdy, not flimsy at all. That's the reason why I decided to get it instead of a locker or cabinet, I heard those can be flimsier. The door latch was also very secure, you can feel the locking mechanism engage/disengage as you're opening/closing.

The one beef I have with this safe is that Stack-On only allows you to use the factory preset combination. You can't set it yourself, which I guess is fair for this price point. Still a bit unusual in my opinion, though if you're okay with that then this is definitely good price for what you get.
Stack-On 10-Gun Safe (SS-10-MG-C) Specifications
Inner Dimensions: 54.96″ H x 15.71″ W x 11.94″ D
Capacity: 5.97 cubic feet, up to 10 long guns
Outer Dimensions: 55.13″ H x 15.88″ W x 15.13″ D
Construction: Solid steel
Weight: 129 lbs
Locking mechanism: Combination lock, drill proof with 2-way locking bolts
Stack-On 16-Gun Convertible Double Door Gun Cabinet (GCDG-9216) Review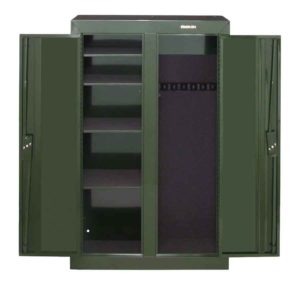 The GCDG-9216 is also technically a security cabinet. It's not a traditional safe, but it can function perfectly fine as one. In fact, it meets the requirements that the California DOJ sets for gun storage. This means that putting your guns in one of these will satisfy gun storage laws across the US.
The Stack-On GCDG-9216 Convertible Double Door Cabinet is good for people who want some flexibility to customize their gun safe.
Fred from one of my hunting Facebook groups said in a comment..
I got the Stack-On 16-Gun Convertible Double Door (wow that's a mouthful, I'm just going to all it the GCDG-9216) because I didn't actually want to store 16 guns in there. I only have 4 rifles, but I have plenty of ammo and accessories that I wanted to all put in one location.

The GCDG-9216 is pretty unique. It has two separate sections, each of which has its own door and own lock/key.

I put my rifles in one section, and then my ammo and accessories in the other section. The safe came with four shelves, and I installed them in the way that I wanted in that second section. It's kinda like a bookshelf, just made of strong steel and for your guns and other stuff, not books.
Stack-On 16-Gun Convertible Double Door Gun Cabinet (GCDG-9216) Specifications
Inner Dimensions: 54.30″ H x 20.31″ W x 17.18″ D
Capacity: 19 cubic feet, up to 16 long guns
Outer Dimensions: 55″ H x 38″ W x 18″ D
Construction: Solid steel Weight 147 lbs
Locking mechanism: Key lock (double-bitted) with 3-point locking system
Stack-On 22-Gun Safe (SS-22-MB) Review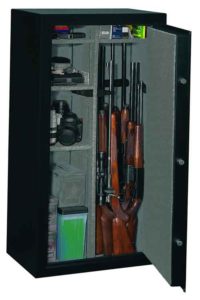 If you have a larger long gun collection, then Stack-On also provides the SS-22-MB, which is advertised as a 22-gun safe (actual capacity, as always, will vary).
The SS-22-MB is also advertised as "fully convertible". This means it comes with a bunch of adjustable shelves that you can configure to your liking. In one of their suggested configurations, you can divide the safe in half. One half for your long guns, the other half for other things like ammo on smaller shelves.
Marshall from Bacliff, TX wrote on a gun enthusiasts Facebook group I'm a part of, saying…
If you're looking for a large starter safe, then the Stack-On SS-22-MB is worth considering. It's not the most premium safe in the world but it does the job. It has customizable shelves which is why I recommend it as a starter.

You can do what I did. At first when I only had three rifles I customized my SS-22-MB to have one side rifles, one side for other items like ammo and binoculars. The other side I could have five sections, using four shelves.

When I started expanding my collection, I actually ended up temporarily putting a handgun on one of the shelves before I got a dedicated safe for that. Then once I got more guns, I dismantled the side with the four shelves. Now my SS-22-MB is just for rifles.
Stack-On 22-Gun Safe (SS-22-MB) Specifications
Inner Dimensions: 54.75″ H x 26″ W x 14″ D
Capacity: 11.53 cubic feet, 22 long guns, 4 adjustable shelves
Outer Dimensions: 55.25″ H x 27″ W x 17.75″ D
Construction: Solid steel Weight 245 lbs
Locking mechanism: Electronic keypad lock
Stack-On 24 Gun Fire Resistant Safe (A-24-MB-E-S) Review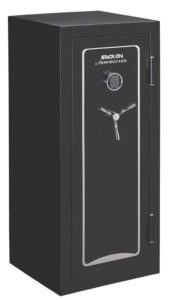 If you need something that's fire resistant, Stack-On also makes fire resistant gun safes that'll help protect your long guns.
The Stack-On 24 Gun Fire Resistant Safe (model A-24-MB-E-S) is one of Stack-On's mainstay fire resistant offerings. It can survive for half an hour at up to 1400 degrees Fahrenheit, and this has been verified by ETL (Edison Testing Laboratory, a US Nationally Recognized Testing Laboratory).
Note: there are also 18, 40, and 64 gun variants of this safe. They are available from the same listing on Amazon in case you want smaller or larger sizes!
Stanley in Montana writes: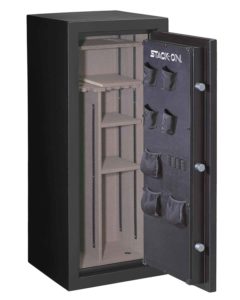 I live a ways out of town so first I'm happy they delivered my A-24-MB-E-S to me just fine, had a big truck come over and plop it down and my sons and I worked together to move it inside. The construction feels great and heck is it heavy. The boys and I open the safe on a pretty regular clip and the battery for the lock has been going strong for the past year or so.
We've had a couple times on really cold days where it seems the keypad lock doesn't work so well and we had to use the backup key. I think that's because batteries just freeze up when it gets too cold, guess it's one of the disadvantages of an electronic lock when you're up further north.
I will say that even with the cold our guns are nice and cozy inside. There's padding all over the safe and I didn't have to spend extra time and money fitting that out.
Stack-On 24 Gun Amorguard Fire Resistant Safe A-24-MB-E-S Specifications
Inner Dimensions: 52.17" H x 21.02" W x 14.57" D
Capacity: 33.34 cubic feet, 24 long guns
Outer Dimensions: 55" H x 23.37" W x 20.75" D
Construction: Solid reinforced steel Weight 442 lbs
Locking mechanism: Electronic keypad lock with 1.5" live-action locking bolts and up to 10 locking points.
Fire resistance: ETL fire rated for 30 minutes up to 1400 deg F
Best Stack-On Home Safe Reviews
Stack-On Elite Jr. (E-040-SB-E) Review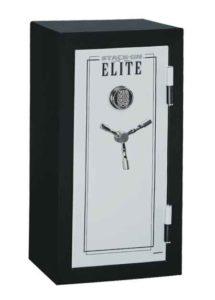 Well, I've listed a bunch of gun safes… but Stack-On makes home safes as well. One of the most popular home safes in their lineup is the Stack-On Elite Jr. Executive Fire Safe.
The Elite Jr. is pretty big… it has 5.73 cubic feet of capacity, and like many of Stack-On's gun safes comes with three adjustable shelves that allow for lots of customization.
Gale from Union City, CA said the following when I asked him about it in a FB group comment thread:
I actually use my Elite Jr. to put handguns, among other things not gun-related. I know in a perfect world I'd keep the guns separate, but I figure that since Stack-On also makes gun safes it's probably OK so far. Anyways, I can keep all my ammo and accessories in here too since the size is massive. My kids call the safe 'mr. beast'… and they sure as hell aren't going to be able to open it.
Stack-On E-040-SB-E Elite Junior Executive Fire Safe Specifications
Inner Dimensions: 37.5″ H x 18.5″ W x 14.21″ D
Capacity: 5.73 cubic feet, three shelves
Outer Dimensions: 40" H x 20.9" W x 19.8" D
Construction: Reinforced Steel Weight 250 lbs
Locking mechanism: Electronic keypad lock, 2-way locking with 3 new 1.5" live action-locking bolts and 3 deadbolts for 6 locking points
Fire resistance: Rated for 30 minutes at 1400 deg F
About Stack-On
Stack-On is a pretty well-known safe company in the US. It was founded in 1972 and is based in Wauconda, Illinois.
Stack-On makes a pretty wide variety of safes. They've got handgun safes, long gun safes, and even home safes. Their widest selection is with long gun safes. Their safes are best known for providing great value for the cost.
I've compiled reviews for safes across all of those categories, so that you can make the best decision regardless of what your needs are.
FAQs about Stack-on safes
What's the warranty on Stack-On safes?
Stack-On safes have a vary wide range of warranties, depending on the specific product you bought. They have limited lifetime warranties on some products/situations, and then 1, 2, 3, and 5 year warranties on others.
You'll want to check out the details for yourself here: http://www.stack-on.com/warranty-info/
If you qualify for a warranty, you'll also want to register it here: http://www.stack-on.com/product-registration/
Where are Stack-on safes made?
Most Stack-On Safes are imported. There are a few that are made in Illinois, but most of them come from overseas. Just want to be upfront about that.
This doesn't mean that all Stack-On safes are bad. They're actually some of the highest rated safes on Amazon and I hear about them from my shooting buddies all the time.
How is customer service for Stack-on safes?
From what I've heard, Stack-On's customer service is decent, though maybe not as proactive as brands like Liberty.
However, what really sets them apart is how much documentation they make available on their website. If you look at their customer service portal, they have documents for just about everything. If you're the type of guy who likes to tinker or fix things himself, this will be great.
Otherwise, Stack-On has a customer service email at customerservice@stack-on.com and a toll-free number at 1.800.323.9601.
Expert advice: get a safe that's bigger than you think you need
Like with any gun safe, the marketed capacities on Stack-On safes represent the maximum amount they could hold.
The actual number of firearms you can put in your Stack-On safe is going to depend on what you own.
Here's a good rule of thumb: buy a bigger safe than you think you need.
As an example:: If you have 8 guns, it's probably better to buy the "10 gun safe" than the "8 gun safe".
It might seem weird, but it'll save you money and pain in the long term. You don't want to get a safe only to find it too small, because then you might have to waste time/money either returning the safe or getting a second one. Besides, I'm sure you'll probably get more guns in the future. Might as well have extra space for them!